The following are my rough notes taken live during the August 25th, 2021 Hamilton Southeastern School Board meeting. Because these were taken in real-time, there might be transcription errors, typos, and other issues. For the most accurate coverage of the HSE School Board meetings, you should watch the live streams, attend, or watch the recording after the meeting. The recording of this meeting can be found on the HSESchools site.
The numbers relate to agenda item numbers:
1.02 – Pledge of allegiance
After the pledge, the meeting recognized a moment of silence for the loss of some of those in our school community.
2.01 – Snapshots of Success: Senior Kyle Ponsler and Junior JoJo Ramey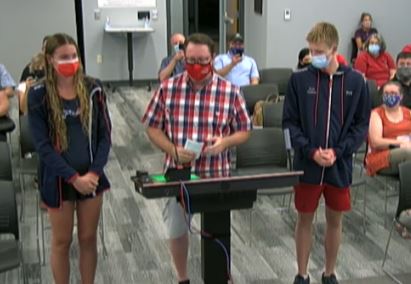 There are now 6 athletes competing at the national level in our district. The following is what is posted on BoardDocs regarding JoJo and Kyle. Kudos to both of them!
---
16-year-old Jojo Ramey was the youngest swimmer to make the Olympic semifinals and finished 7th in the 200 backstroke. Ramey, a sophomore at FHS, has her eyes on the 2024 Olympic Games.
17-year-old Kyle Ponsler also competed for a spot on the Olympic team. He qualified for Wave 1 of the Trials and placed 2nd in the 400 Individual Medley, which secured him a spot in Wave 2. Kyle placed 36th, however, his time qualified him as the 2nd fastest "18 & Under" for international competition.
When USA Swimming selected the Top 2 for the World Cup Jr. Team (18 & Under), both Ponsler and Ramey (she was the fastest 18 & Under in the 100 and 200 Backstroke) were chosen to represent USA in the FINA Swimming World Cup in Budapest, Hungary on September 28 then the following week, they will be in Berlin, Germany competing against the fastest 18 & Under athletes in the World. They leave Berlin on October 10 for their return home.
Ponsler has committed to NC State to continue his academic and athletic pursuits. Fishers Head Swim Coach Joseph Keller says, "many of the athletes that experience these International Competitions qualify for future Olympic Games. So, 2024 and 2028 is a goal for both of these athletes and preparations are being made accordingly."
Q&A Between Board and Swimmers
Kyle started swimming at 4 and has been doing club swim and such since he was 6. JoJo has been swimming since she was about 5 or 6.
What motivates you to do this?
Kyle – Just knowing they are at a level so close to the Olympics and other things is motivation.
JoJo – Seeing the results of what they were able to do this summer helps drive them to see what they can do for 2024 and 2028
Who inspires you?
Kyle – I think the only right answer is Michael Phelps.
JoJo – Missy Franklin – Missy has won gold and has called her and cheered her on.
How do you deal with the pressure?
Kyle – you have to treat it like any other meet. At his first meet, he was a wreck.
JoJo – I was able to talk to him (Kyle), but yes, treating it like another meet.
Lots of great comments and questions not captured here. Let's cheer both of them on!
3.0 – Consent Agenda
Motioned and approved with no discussion. Passed 7-0. Only Certified Staff and Support Staff docs were online.
4.01 – Public Comments
Only one person signed up to speak. Will happen after agenda item.
5.01 – Course Fee Addendum
This is adjustments to some of the high school fees. From Board docs:
The course fees for J Everett Light Career Center have been added for 2021-2022. Some adjustments to previously approved course fees are needed at both high schools. The fee changes include:
Increase for Ag Power to help defray the costs of sheet metal
Decrease for PSAT due to a change in tests
Increase for ACP Government due to pricing and availability
Increase for Fashion Career course (new course at HHS)
Increase for ACP English Literature due to addition of a novel (HHS)
Decrease for English 12 due to an unavailable novel (FHS)
There may be some variation in high school fees due to the selection of consumables or materials used at each building. You can find an updated fee document for each high school on BoardDocs. (Fishers – https://go.boarddocs.com/in/hses/Board.nsf/files/C5ZQS867D074/$file/UPDATED%20FEES%20HHS%2021-22.pdf, HSE – https://go.boarddocs.com/in/hses/Board.nsf/files/C5ZQRX67C69D/$file/8-16-21%20UPDATED%20FEES%2021-22%20FHS.pdf)
This passed 7- 0
5.02 – Cooperative Strategies Agreement
There is a need to review the boundaries for schools for when Deer Creek Elementary School opens. (aka redistrict). It was stated that they have used this company as a consultant in the past for reviewing details for boundary changes . They have asked the company to itemize the cost including a demographic survey. This is just a proposal at this time. This cost is similar to what was paid and done for a previous school opening. A recommendation on what consulting company to use will be provided at the next board meeting or when it is ready to be submitted for approval.
PUBLIC COMMENT
<Shannon?> -Commented that the item seems to be for redistricting consulting. They've been redistricted several times. Mentioned that a child should be able to get through elementary school without being redistricted. Suggested the district could plan better including keeping room in schools where larger growth is happening. Wondered if there were other companies being reviewed beyond the one mentioned. Also commented that the listing on the agenda was cryptic and didn't really make it clear that it was about redistricting, nor indicate that it was potentially using the same company being used before.  In short – it seems the district could be more transparent and clear with the agenda items, and do a better job to avoid redistricting.  
(I agree with many of the points made by this person. You had to really look to figure out what the agenda item was about.)
School Board Q&A on Cooperative Strategies
Was / Is busing being taken into consideration on this?

This is really done after redistricting is done.

Julie -Asked if other companies have used or looked at other companies.

Response – This is who they've used before. This is the company that responded. They are still getting other companies. They didn't want to dump a bunch on the board at once.

Brad Boyer asked about the company having demographics –

The company doesn't have a demographer. Sounds like most in the area are using McKibbin demographics.

Brad Boyer asked if when we look back at past numbers that have been done, how accurate were they?

Answer – depends on which survey you look at. The previous one was done just before the pandemic. The Census data also has fallen into the mix so those numbers are going to be off.

Brad Boyer said that if they were spot on in the past, then we might want to use them again. If not, then…
Another board member confirmed that the administration is still looking at other companies.
Comments from me on this topic: The demographic surveys have not been good in my opinion. I've written and posted on this topic in the past. When demographic numbers have been presented in the past, the presenter has admitted that they didn't take all new construction of homes into account. Granted, home building isn't the only thing impacting the number. Some things such as an unpredicted economic boon a few years back also impacted the growth and numbers, but also a pandemic could be believed to negatively impact the numbers as well.
Here is an article I wrote on the topic in 2019: HSE District Enrollment Numbers vs Survey. Additionally, below is a snippet graphic I used in an online post that points out that each survey shows growth stopping within a few years and then decreasing after that. It's as if that prediction simply gets pushed out with each new survey. With Noblesville announcing huge growth in Wayne Township and with the City of Fishers having announced hundreds of new apartments and hundreds of new homes in multiple divisions being built, it is hard to believe any demographic survey that says in three or four years growth is going to putter out. Just last week they announced 280 new apartment units could be built.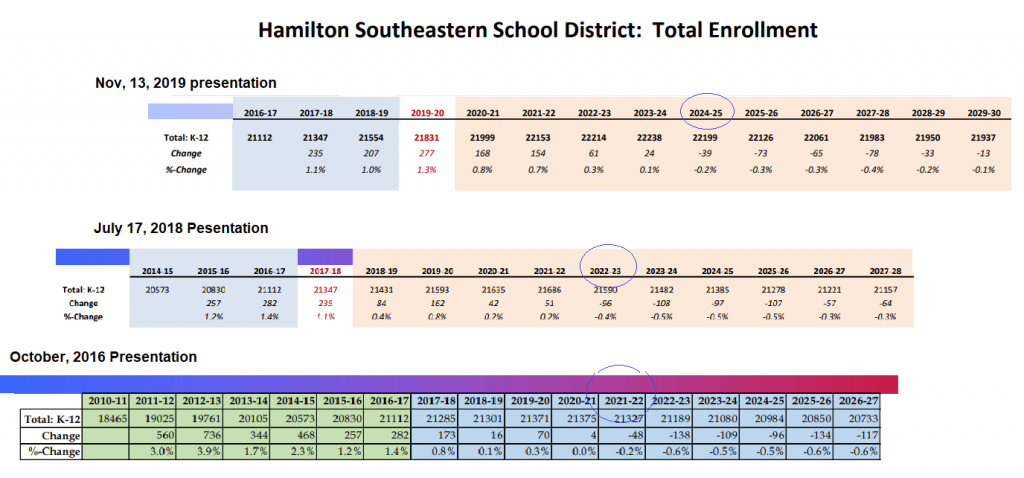 6.01 – Policy Second Readings
The second read of these policies was presented:
B05.01 Board Meetings
E04.00 Transportation Services
These have been covered in the previous meeting, so not much to post here that wouldn't be redundant with the previous meeting comments. A big part of the changes is to combine a number of policies into one.
Q&A and Board Comments
Suzanne commented that the policies seem to be clearer and made sense. She had questioned this at the previous meeting.
Brad Boyer asked about the number of board members that need to be present to have a quorum. This is 4. Brad clarified his question to ask how many had to be physically present versus virtual.  The document had 3. Julie commented that she was going to propose this be changed to a minimum of 4 be physically present.  A person has to be seen and heard in order to considered present to vote.

Janet made a side comment that BoardDocs has as search feature that allows you to search policies and procedures on the site.

Michelle Fullhart identified some typos that needed fixed.
Julie officially moved to amend the 3 to 4 for in person. Brad Boyer seconded. There was no objection, so the amendment happened.
Julie then moved to approve the policies as presented with the amendment. Seconded by Suzanne and passed 7-0
7.01 – Matters of Corporate Interest
Dr. Stokes report. On the web site they posted about the AP Capstone celebration: 24 at HSE HS and 29 at FHS that earned the Capstone Certification diplomas last year. This Is university level stuff. This program provides a great foundation for HSE students.
I know there have been rumors started on at least one private group that schools are removing Advanced Placement (AP) level classes. Clearly if that were the case, Dr. Stokes wouldn't be highlighting such programs at a board meeting. HSE has always pushed high achievement (and has pushed kids into advance classes by default when they should not have). I expect that the push for high achievement and advance placement will continue. There is, after all, additional funding for such classes.
Dr. Stocks brought up the topic of Masks. She stated that there have been concerns that people have had about masks. She had Jeff Harrison present some internal data on the topic: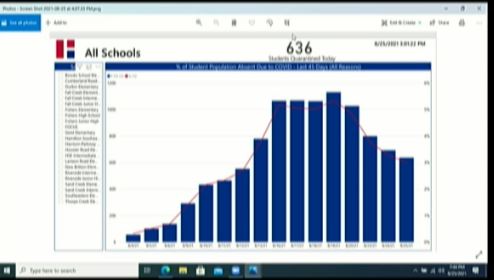 This chart is blurry and hard to read. It is an internal graph and thus not a good capture and not publicly accessible outside what was presented in the board meeting.
This presents data from the first day of school up to today at 3:00pm today. Blue bars and line are the number of students in quarantine (from all three groups – positive cases, symptoms, and close contacts). Blue bar is count of students. Red line is percentage of overall student population.
They did the mask mandate on Friday August 13th. The number at that time was at about 500. By end of that day it was up to about 800. On the following Monday it went up to about 1100. With the mask mandate now in place, the numbers have started going back down.
One of the things they've done along with the masks is reduce the quarantine time. Attendance secretaries are tracking quarantine kids and are coding students for the 8 days they will be out so they can project attendance impact. They are continuing to watch this.
Dr. Stokes also commented that she is responsible for 21,000+ kids. Not every decision will make every parent happy. They watch SIS – Students in School. Primary goal is to keep kids in the classroom – not to make people upset. Students want to be in school. They are doing this to keep kids in class.
Dr. Stokes also commented in regard to the earlier Cooperative Strategies agenda item… She stated that the next board meeting is on a Thursday so people should be aware. She had the terminology clarified on the upcoming agenda to show it is about redistricting research companies. It was commented by board members that they need to update the text a bit more so people don't think the item next month is about actual redistricting (it is not), but rather the company doing demographics that can be used in the future if (when) redistricting is necessary.
Dr. Stokes' last comment was to thank a number of groups of people. "Thank you for working with us." She thanked the teachers for their hard work. The students, the staff, and transportation as well.
8.01 – Board Member Reports
Michelle posted a Foundation report on Board docs. The HSE Foundation supports the schools with scholarships, grants, and more. The fall 2021 grant application program is now open for teachers and students until September 30th. You can find out more about the grants process at https://www.hsefoundation.org/teachers/grants/. This includes information on past grant recipients.
Back by popular demand…. Mudsock VIP tent will be back. Tickets are more expensive, but you get a seat cushion or something. Tickets are limited.
It is also in the report that the food drive competition between schools is expected to take place again this year. If this is happening details will need to be announced soon because the Mudsock football game week is September 7th to 10th.
A Parting Tweet
I'll end this report with the reposting of a Tweet from @FHSTigerCage. While this has nothing to do with what was covered in the board meeting, I thought it worth sharing. The fact that they felt the need to tweet this is sad: