The following are my notes from the Hamilton Southeastern School Board meeting on October 13, 2021. My notes are taken live during the meeting, thus might contain typos, transcription errors, and such. To get the most accurate information, tune in and watch the live streams of the meetings or the posted recordings after the meeting on the HSESchools.org web site. The numbers next to the titles should align with the agenda items listed on the BoardDocs web site.
2.0 – Snapshot for Success: Thorpe Creek Elementary
Thorpe Creek Elementary was recognized today by U.S. Secretary of Education Miguel Cardona as one of the National Blue Ribbon Schools for 2021. The recognition is based on a school's overall academic performance or progress in closing achievement gaps among student subgroups. A resolution was read at the beginning of the meeting recognizing Thorpe Creek Elementary School. It was emphasized that the school was recognized for academic excellence.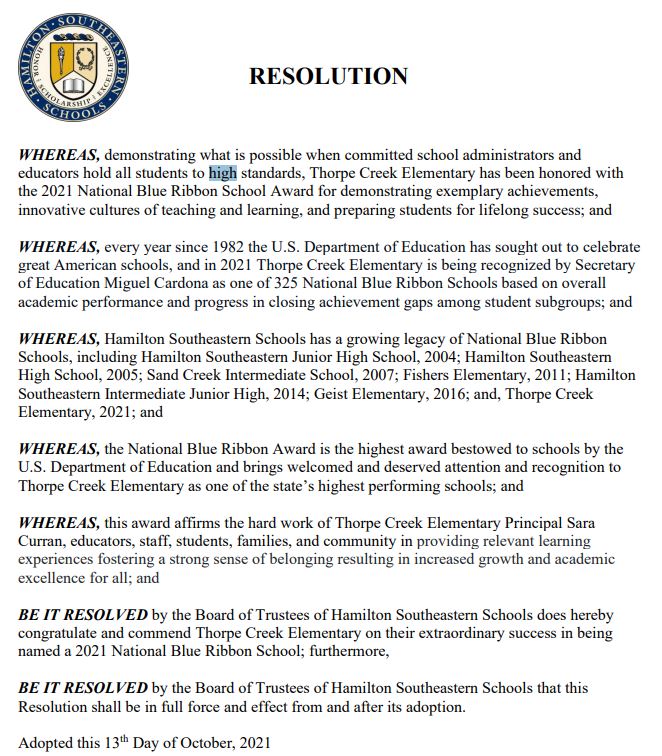 A number of people spoke regarding Thorpe Creek Elementary. This included admin, teachers, and students. I recommend that you review the video to hear the details of what was stated. The four students took the time to say what they thought made Thorpe Creek Special to them.
"You can be anything you want to be without being totally crazy."
"All the teachers are really nice and helping. All the kids that are behind, the teachers help them get ahead."
Dr. Stokes expressed her appreciation for the students being involved in the presentation to the Board. She commented that it takes the students as well as the teachers and staff.
It was stated that you must be invited in order to be considered for the Blue Ribbon Awards. Ironically, the email with the nomination/invitation went into the spam folder, but alas the school was made aware and was thrilled to be nominated.
3.0 – Consent Agenda Items
The consent agenda included several standard items, but also included a list of donations from 2020-21. I've commented on these donations on social media. Specifically, I've commented on the amount of money donated by the PTOs to cover playground and other items that the district should be covering. PTO dollars should not be paying for playgrounds. Rather, it would be great to see what the teachers could do with that money if they could invest it in grants and special projects.
Consent agenda approved 6-0 with no discussion
4.0 – Public Comments
Public comments happen during the related items.
5.01 – Land Agreement with City of Fishers
David Day, legal council for the district, presented an adjustment to the Land Agreement between Hamilton Southeastern School and the City of Fishers. This was the transfer of approximately 3 acres of land to the City of Fishers. In return, the City of Fishers is funding some of the Teacher in Residence. (So while the City budget looks like it is contributing teachers to the schools, it is actually buying land.)
The City determined they needed another a 30' stretch of land along the property for drainage issues. This is about an additional quarter acre. The change is not reported to impact any possible future use of the remaining school property. The additional land is what is between the yellow and blue lines in the following image.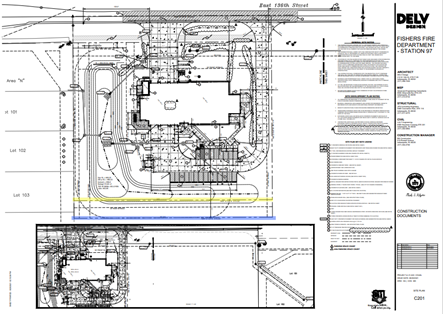 Motion to transfer land passed 6-0.
6.01 – Public Hearing on HSE School Budget
This was a public hearing on the 2022 School Budget. The following are the funds that get approved. These are budget estimates. These are the maximum. The state caps the maximum amount they can increase the levies. The numbers might change slightly as final assessed values (AV) and such are resolved.
There are a variety of funds in the budget:
Referendum Fund – exempt. This is a tax rate controlled fund. They can't increase it. The presenter stated that the referendum fund rate can't change it; however, my understanding is that such a statement is not accurate. The rate cannot go higher than the voted number, but it can be lowered.
Rainy Day Fund – This is generally used to protect the school so they can make payments when they need to. There is no tax levy or impact from this.
Debt Services – This is all debt from after 2010. This is higher than the current tax levy amount.
Pension Debt – This was debt from when the school bought out days and such a while back. This will go away in a few years.
Referendum Debt Funds – exempt capital – This was approved further back. This is a debt fund.
The debt rates have been held at .5898. The school district won't go over this rate.
Self Insurance – This is going up. One impact is the funding of dental.
Education fund – This is the funds to pay the teachers. There isn't a tax levy for this. This is primarily covered by the State Funds and not a local tax levy. Notable changes – Teacher bargaining, any additional teachers, and such. They were looking at being proactive and not reactive in planning.
Operations – This fund is based on tax levy.
Operations, Referendum, and Debt Services are covered by property taxes. The current assessed value of our district is around $9.2 billion including Wayne Township. The funds are based on a tax against this amount.
$1.8 million of the operation fund transfers to the education fund. This is different from what most districts do. Up to 15% of Education can be transferred to Operations, but HSE does the opposite. We are funding more in Education. One reason HSE is different is because the money that would possibly be transferred from operations is offset by the referendum funds.
All capital expenditures that exceed a certain amount have to be publicized. If it isn't publicized, then they can't spend operation funds on it. A document was shown in the meeting slides that is not linked on the agenda that showed the list of items over this amount. It was stated that the document has been on the school site since about October 1st.
< Lost a bit of the feed>
**** Public Comments ***
(1) Fields
Asked that budget things be included on the web site in a manner easier to find by the public. The links she followed from the site took her to odd places. The link was changed in the past day or so. She asked for information being to be posted in a timely manner with clear links. She used the example of attaching to the agenda. Most of capital projects seem to be tied to playgrounds, sporting things, and such. She did not notice any items tied to ventilation within the schools. She would not want to see that ventilation be an issue to shut down schools in the future. City of Fishers reduced its rate, and while this won't decrease rates, she asked if the school district would do the same as well. The rate assessed in HSE is roughly 45% higher than Carmel-Clay. Would like to see the rate to go down, which doesn't mean the amount collected would necessarily go down.
(2) Eaton
Fund 002 – Wanted to talk about some of the referendum and other items. Mentioned there is $3 million that is unclear. She asked how that would be applied to academic excellence. She asked the board report to the public more details on how the 2016 referendum dollars are actually being spent. Higher standardized tests are not happening even though the referendum funds are being added to the education funds. She listed HSE rankings based on Indy Star reporting indicating HSE is lower than many of the surrounding schools.
((My comment: If anyone has a breakout of how the specific referendum dollars are being spent that would be great to see. It would also be interesting to see a list of promised referendum programs and how the spending aligns with them, as well as to see what is and is not happening from those original promises.))
(3) Wade
Banner on Census Government Web Site says the census data won't exist until November 30th. Current budget being presented is being done based on not having data. An analytic data isn't going to be used for redistricting. Being that educational funds are based on student population and being that bus and other things require knowing population, one would think that data would be used. He recommended waiting until data is available before moving with budget. Analyze data when it is available. Develop a 5 year budget plan to be more strategic rather than reactively.
((My comment: School budgets have to be completed by November 1st. The district can't wait.))
(4) ???
Transparency and Communication with the public is needed when doing budgeting. He also had trouble finding information. Lot of searching and bouncing around. Seen over last 5 years that there are unspent funds carried forward at the end of each fiscal year. This indicates that enough thought isn't put into budgeting. Asked if the board looked at this carry over to determine why this is happening at the level it is happening.
There is also a lot of money being spent in legal and consulting expenses. This seems to be going up when it should be focused on going down.
What is the process of needs versus wants? How are leases compared versus owning? Are you looking at consolidation? He mentioned efficiencies that could be reviewed like heating and cooling
There was Covid reimbursement for like $4.2 million. Couldn't find this and is not sure where it went. Wouldn't want to see this show up after the fact.
((My comment: The school district has done a lot of efficiency reviews. They've done a number of projects to try to cut costs or otherwise reduce spending. This includes the LED projects, solar panels, the changes to nursing, and much more. While I had my issues with several spending items, if you followed the board meetings over the years, then you know that looking for efficiencies is something the district has been proactive in doing. As to grants, those have specific use cases.
As to rolling over funds, that's a new one for me to hear. When there have been 'extra' funds, the district has pulled future expenditures forward to use the funds in the current year. I actually spoke at one of the public meetings and asked why an unexpected $5 million in savings couldn't be returned back to the taxpayers. Instead, they pulled spending from the following year forward. In asking if that would then reduce the following year's budget, I was given a non-answer. If the presenter recalls, just last spring the board and district was cutting $5 million in order to not go over in spending.))
(5) Logan
Appreciated that additional attachments were on the agenda. Over the last few years there was an Eli Lilly grant. If that grant goes away, what will pay for that program? Where are the metrics concerning DEI, SEL, and the other things being brought into the district? Where is the Panorama Survey information? Indiana site says test scores are going down, so this is concerning. It wasn't one or two schools in our district being recognized nationally, it used to be a lot. After reading the Panorama Survey, it has nothing to do with academic excellence. If teachers think there is, they need to re-read it and reevaluate it because she thinks they are long. She sees things like DEI officers, Panorama Survey, but there is nothing that shows they are effective. If you can't show ROI, project should be scrapped. She stated she doesn't believe that mental health resources are helping. Her BI student didn't need help and graduated 12th, so she doesn't seem to understand…. She indicated by saying "If I had a kid in this district now" that she doesn't have a student currently within the schools.
((My comment: Wow. Just, wow. While the questions around the grant funding were good, much of the rest raises questions. One of the first is that people looking at test scores – specifically iStep and iLearn – have to remember that the tests completely changed around 2018/19. That means you can't look at the test before 2019 and compare them to those since. Since 2019, there hasn't been enough testing to get a trend. Comparing to other districts is a fair metric, but comparing to the past is not. The statements of the type "it doesn't impact my kid, so why is it needed" indicates a compete lack of empathy towards the 21,500+ kids in our schools that aren't her child.
**** Board Discussion****
Indiana code states budget process. A budget has to be adopted before November 1st. There has to be a public meeting with 10-day notice. This is mandated. This happens every year.
Education budget is based on multiple years plus their history. They measure and watch funds monthly.
There was recently a public working session on the 10 year plan. Advertised Education plan items are not necessarily what is in the 10 year plan. Next year's renovations plans are not a part of this year's budget because it isn't in this year's plan.
We are not transferring the 15% from operations to education because the referendum is covering this 15% instead.
The account and the books are done how the Indiana State of Accounts says to track things. The breakouts and such are aligned with state tracking.
Grant funds are not a part of the annual budget plans, so the $4.2 million is not mentioned in the annual budget. Funds go out of that. The grants specify how the money has to be spent. The grants are extremely specific on how they are to be used. This does not go into the operations; it is tracked through the statutory budget process.
Incumbrancers. The school cannot just roll money. If the schools only spent 94%, they can't just roll over 6%. Money has to be obligated, which is not a manual process. (Some payroll fees might be manual). If district is out-performing and underspending, they cannot roll it over – that is not legal.
Michelle Fullhart commented about the need to look at efficiency. She mentioned the solar panels, the energy manner, and other items.
Michelle Fullhart commented that research was done in the past to maximize efficiency. This included looking at what size works for elementary schools for needing just 1 art teacher, one music teacher, etc. The point being efficiencies have been researched.
Julie Chambers commented that there have been comments on mental health and such. She said she has seen data on this, and it was positive. She asked Dr. Kegley and others to comment. Dr. Kegley commented that the data has been presented in the past in a variety of ways including in board meetings, board updates, and other manners. He commented that they could do a comparison and presentation in the fall or spring and/or post it to the site.
Dr. Stokes commented on mental health that the responsibility is to support *all* students in our district. We do have kids that need mental health support. We have kids with suicidal issues and other mental health concerns. She would not want to shortchange the efforts that the district provides to student and staff for mental health. There are counselors that make sure we support our kids in all facets that will impact their academics. We do support mental health initiatives in our district because our kids have to be well rounded. We have the kids for 6 hours a day, so we won't discount feeding our kids. Similarly, we have them for six hours and we won't discount their mental health either.
Brad Boyer asked about the Eli Lilly grant. The grant was extended to this year to allocate and use the remaining grant funds. There was an initial allocation when the grant was awarded of at least $2 million. The items that are being paid for with that money will need new funding money to be funded next year. Some things are done temporary. The board/admin will need to look at what to continue funding.
Michelle Fullhart commented that in Spring of 2019 was a new test. If you compare 2017 with 2019, it is two completely different tests. Brad Boyer commented that the spread between schools is the issue that need to be reviewed more so than the actual percentage.
Brad Boyer commented that the Panorama survey came in with the Eli Lily grant in 2019. Will that come to an end after this year since it is reoccurring item, and they don't have a reoccurring budget for it. Michelle commented stated that students don't learn if they don't feel safe or accepted at school. At the Superintendent Student Advisory committee meeting, students commented that if they feel the student cares about them, they do better in the class. As far as mental health support, HSE is leading in that area – not all kids are 12th in their class. Brad Boyer commented that he doesn't disagree (yes, double negative) that kids need to feel safe in the classroom, but didn't want to tie that directly to the Panorama Survey. Brad commended the teachers being a part of this. It was commented that the Panorama survey helps measure this. (( Note: The webinar from October 12th should be on the web site for public viewing.)))
Suzanne (?) – With increased assessed value and population growth, how much did that increase the budget this year? How much additional review did that increase? $23 million referendum fund, 4.3% is the maximum growth that you can have. Referendum Assessed Value doesn't include the TIF districts. Most of the expenditure increases are attributed to additional tax amounts. ((My comment: If I understood this question, it was a great question. Although worded differently, I believe the question was: Without changing the tax rate, how much more money is the school going to collect because of the increase in home and property values. A clear answer wasn't really given. Looking at the numbers, the referendum dollars seem to be going up almost $3 million. ))
"Considerable allocations for legal and consulting fees" — Dr. Stokes commented. If citizens have FOI requests (Freedom of Information), they have to have lawyers review the requests. If parents raise a concern and say they have a lawyer, then the district is required to have a lawyer. If any land or property acquisitions happen, then they have to pull in lawyers. They are a quarter of a billion dollar corporation that is going to have these costs. Julie Chambers commented that it is better to proactively review things with a lawyer than to potentially pay out a lot more later. Brad Boyer commented that he'd like to see attorney fees be smaller, but it is a necessary evil.
*** Public meeting on budget closed ***
6.02 – Redrawing Boundary Lines Update
No presentation on this. They simply reiterated that boundary lines will need to change when Deer Creek Elementary is opened. They know capacity from Durbin will be increased, so things will change.
A public meeting on October 26th at 6pm at HSE HS will be happening. A Skylert will be going out to those impacted. (My comment: Skylert went out during the meeting)
The committee worked through the scenarios that had been presented. The purpose to open DCE and alleviate the overflowing of SES. They are having the data against the 2019 demographic data (since the new Census data is not considered good at this time). They are using the existing Demographic data and Dr. McKibbens ((My comment: I've questioned the McKibben demographic surveys in the past, so I don't trust it. In a past presentations it was once stated that the data didn't consider all of the future home growth, which is critically impactful for our district. ))
Suzanne commented that some kids have left the district. Some kids have come in. If we are not doing a full redistricting, then why not just move the Durbin kids? Response was that Southeastern is around 200 kids over what it needs to be. By moving kids from SES, they should make some room there to try to reduce the number of kids that need to be moved again.
Brad Boyer commented that the simplified statement of what is happening is that: "The kids are being moved from Durbin to Deer Creek Elementary and about 200 kids from Southeastern are being moved to Deer Creek as well to help reduce to overcrowding at SES and allow for room there for growth happening in that area too." (I paraphrased)
Comment was made that the pandemic messed up the demographics. Dr. Stokes commented that they can pull data that helps them predict the number of kids. One of the board members commented that what is hard to predict is the number of kids 'holed up in their homes until the pandemic is over".
6.03 Policy Reviews – First Readings.
The policies being presented for review were:
I05.02 Access to Instructional Materials and Surveys; Consent for Participation
Revisions that were requested at a prior board meeting. It has a new title. Once approved by board, Indiana Codes (IC) will be updated. Legal citation was outdated and a copy-paste of former policy code. New language aligns with federal language and is more reader friendly. "Parent or Guardian" was updated throughout.
I01.00 Curriculum, Development, Implementation, & Assessment
New title for this policy. This was a combination of a couple of policies including some of the following.
I02.01 Curriculum Development
I03.00 Implementation of Curriculum
I04.00 Assessment of Curriculum
I09.00 Animals in Classrooms
J05.10 Assistance Animals in School
Above two policy are being combined
"Looks overwhelming but should be easy to get through. Many policies are being combined to reduce the number of policies. Because of combining, some policies are being rescinded. You can find the policy changes for the above attached to the Agenda on the Board Docs site. These policy updates are considered first reads, so they will be back.
Dr. Stokes commented that it is easier to streamline the procedures when they can refer to one policy instead of having to jump around several policies.
Suzanne Thomas (?) commented that the original update included text that is different from what is in the policy now regarding the first paragraph for I05.02. Julie Chambers commented that she thought the change was a result of aligning the wording with the State Code. The policy can't overstep a law. Suzanne commented that since the wording was already in the policy, why can't they simply keep it. Julie and Brad commented that they need to match the law. Suzanne asked that if they could ask the lawyers to review it. In the same policy, Brad Boyer asked if the second paragraph should be changed to "The Superintendent will establish…" instead of "may". This will be reviewed. It was also stated by admin that the parent consent form is being reviewed. (Note that these are first readings of the policies, so they will be at a future board meeting before being approved.)
Michelle Fullhart asked if the animal procedures covered things like "Fish in fish tanks". The response was that it covers all animals in classrooms. Brad Boyer then asked as well – Response was that there are procedures for classroom animals that include spiders, fish, snakes ,and such….
*** Public Comment ***
(1) Fields
I05.02 – Regarding consent for participation is that participation should include an option to opt out. Parents had to drill down in the recent Panorama information to learn there was an opt out option and a tight deadline. Regarding parental or guardian communication should have a 10 day type requirement. Requests should be specific and not broad for opting out. Links should be straightforward and take parents/guardians directly to the opt out areas and not informational areas.
She also provided research information on surveying minors. In short, all surveys should require parental consent on each individual survey.
(2) Mike
I05.02 – Restated first part of policy and commented on the list of areas prohibited.
He commented that there are three questions with responses that are concerning. "What is one thing you wish your teacher knew about you?" Students are told these are anonymous, but there is a student number associated to the surveys. Who reads the responses? Concerned about what is done. What if a student reveals illegal or sexual information about themselves? He wonders if this will violate the policy if there is not a way to censor this. Thinks they need to consider not doing Panorama survey or it should be opt-in, not opt out.
(3) Eaton
I02.01 ? – She has a couple of questions. On first paragraph. Wondered how committees would be formed to do these reviews. Suggested they look at best practices and at other districts to see what is best for including parents. There is a trend to not include parents, but our community is wanting to be involved in a civilized way.
Other question – Understands that the policies are being streamlined. Commented that our academics are going down, so we want to meet more than minimal standards. She asked that they re-evaluate that.
Last sentence in regard to Superintendent reporting to the board, she suggested that a more specific time frame be listed.
(4) ???
I05.02 – Commented before about deficiencies. Superintendent "may" establish procedures, otherwise this could become a delay tactic since there is no policy. There should be a policy so that procedure access is not an empty process. Secondly "periodically" needs to be more specific. For example, delay could mean kids are exposed to materials for longer periods of time than necessary.
The then talked about the opt-in list in the policy. Commented that the Panorama survey could conflict with this because kids could respond with things from the opt-in list. (This is the same as a previous speaker.)
(5) Marty
Appreciates I.C. 20-30 being sited. He mentioned the Indiana AG citing parental rights in that code. In items not aligned to Indiana curriculum, it is an opt-in requirement according to the Indiana Parental Bill of Rights. He then talked about CRT and how it is not allowed. Commented about SEL surveys that align with CRT not being allowed. Referenced I.C. 20-30-5-17.
He commented about the lack of education being taught regarding the Constitution. He referenced requirements according to the I.C. standards.
This speaker chose to continue to speak and turned belligerent after he was told his time ran out. His microphone was eventually cut off.
**** Back to the Board ****
The comment about targeting a "minimum" was discussed. (I jumped on the board previously about targeting 'minimum'.
Suzanne Thomas asked if they could change the reasonable times to "2 days". It was quickly stated that two days is not 'reasonable'. The response time has a number of factors such as size of request, staffing, does it need a legal review, etc. While they would like to say 2 days – or something – there is too many factors. The question was raised – could there be a statement that they will 'respond' regarding the request within a given period – maybe not an answer, but at least a response saying it is being worked on. Julie Chambers commented that being more specific could be something that is incorporated into the procedures developed by the superintendent.
(I.C. 20-30-5-17) – Brad Boyer commented about the I.C. where parental consent is required. Should there be something added? Federal law is what is requiring the policy. The Federal law trumps the Indiana Code. Can the Indiana Code be more restrictive? The district still has to follow Indiana law, it just doesn't have to be in the policies. Brad asked how the IC should be included. The board is unsure what is needed. (A person in in the audience commented they should talk to the Attorney General. He was asked to be quiet as they board was trying to have a meeting.) Brad commented that it wasn't clear how the different curriculum policies worked together.
Brad and another board member indicated that if code says there is a parental requirement, then it should be opt-in rather than opt-out. Stated that they need to look at this closer. Julie commented that the Federal and State codes require parental consent on the specific things listed.
This discussion went on for a while. Michelle ended up suggesting curriculum might need to be split from the survey information. Janet commented that they need to streamline and look at combining.
Pushing things to an opt-in model would likely cause a lack of participation and thus would hurt the objects. Janet indicated that the policy committee has some work.
7.0 – Superintendent Reports
Dr. Stokes reminded that Fall Break starts Monday. Thanked family, staff, students, community, and everyone for first 9 weeks of wonder. Don't send kids to school on Monday!
Congratulated Thorpe Creek again.
7.02 – Draft Agenda
Electric School bus – they are waiting on the award grant letter before it makes it in the real meeting.
Action items on budget and spending stuff
More information will be available for drawing the boundary lines.
Other items
Suzanne indicated the Governor extended the Covid umbrella. Asked what the district is waiting for before it can get back to normal.
Dr. Stokes commented – "SIS – students in school." Based on health department and requirements for contract tracing, the reason we are wearing masks is so that we can keep our kids in school and for other reasons she is not there to debate. If students have on masks, they can contact trace at 3 feet versus 6 feet, so more kids can stay in school. If doing masks, then asymptomatic kids can stay in school. More kids can stay in school if they keep masks going, especially while contact tracing is mandated. Until the health department or governor change the rules, masks stay. Dr. Stokes said a lot of information comes into play.
# # #
NOTE: Again, these are notes typed live and might contain errors. For the most accurate information, watch the posted video of the meeting.