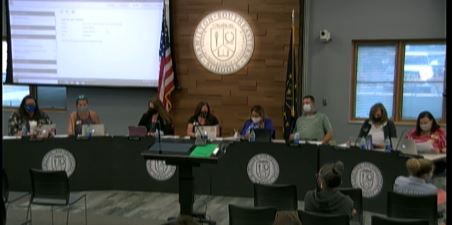 The following are my rough notes taken live during the September 9th, 2021 Hamilton Southeastern School Board meeting. Because these were taken in real-time, there might be transcription errors, typos, and other issues. For the most accurate coverage of the HSE School Board meetings, you should watch the live streams, attend, or watch the recording after the meeting. The recording of this meeting can be found on the HSE Schools site.
The numbers relate to agenda item numbers:
2.01 – Snapshot of Success – Alex Horan, FHS Senior
From BoardDocs: FHS Senior Alex Horan is the recipient of the Judge John Price Scholarship for the Outstanding Eagle Scout of the Year. For his Eagle Scout project, Alex redid his charter organization's (The American Legion Post 470) deck. He also designed a pergola to provide shade on the deck.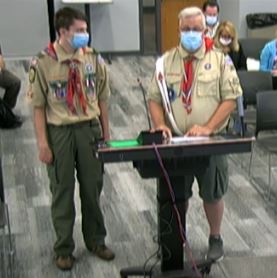 My comments
Jeff White spoke a few minutes about Alex and Scouting. Jeff White is a local Scout leader. He is also the founder of the Fishers Chatter Facebook discussion group. Alex talked about some of the requirements of becoming an Eagle Scout. This included earning merit badges ranging from things such as camping and cooking, but also things like financials and adult skills. He commented that there are also fun skills like science, space, shooting rifles, and more.
Jeff said that he had asked Alex about a year ago how getting to be an Eagle Scout helped him with school. Alex said it has taught things like focus and dedication towards getting things done. It also helps you learn how to make decisions including things like drinking. There are also areas such as learning about cyber security that also have been beneficial.
Jeff commented that 72% more likely to attend the arts. 39% more likely to read books recreationally. Tend to drink less than their counter parts. 39% more likely to report being close to neighbors and friends. They are more likely to volunteer to charities. Overall, Eagle Scouts and Scouts tend to be more rounded people.
Board Comments / Questions
Janet asked "what's next"?
<Alex> Getting grades up. Might do an internship next year with a flex schedule. Looking at engineering.
Michelle asked, "Have parents helped along the way?"
<Alex> Yes! I wouldn't have made it this far without my dad pushing me. First in family as an Eagle Scout.
Dr. Stokes: It says you have 21 Merit badges. How much time have you spent towards this?
<Alex> A few take only a few days. Some, such as Family Life are scheduled and mapped and thus take a lot of time. Personal Finance and Management was something like 12 weeks of tracking finances and working with the numbers.
Others? Can you tell us about the deck you built for your Eagle project?
Alex commented quite a bit on this. He created a plan over a couple of months, went through financing, checked safety concerns, worked with other Scouts to build it. Alex went into a lot of details on how he was able to get to manage the project. This was a project with a pergola built for the American legion (across from the Y on 126th Street).
Suzanne – If you could give one piece of advice…
<Alex> – If you do something stick with it. If you work hard, it will pay off.
3.x – Consent Agenda
This is a variety of area including staff resignations, leaves, and more. There was also a donations item (3.04) about a donation of 1,250 units of sanitizer being donated by MonoFoil. This was valued at $22,500.
Passed 7-0
5.01 Information and Planning for Redistricting for 2022
Note: The comments on Board Doc were non existent. I wish more had been posted there.
This is an informational item. Last month they talked about hiring a company. Katy Dowling presented on this. There were concerns on housing growth. There are questions of how to deal with overcrowding and other issues.
If we did a complete redistricting, what are the odds they would need to do it again in 2 years? Could they redistrict so that they only impact those to go to the new building (Deer Creek Elementary) and thus only impact people once for the most part. They are looking for a safer route to minimize impact.
Notes based on Board Comments
All of Durbin (350-400 students) are likely to move to Deer Creek, which has room for 720. They will address areas where there might be overcrowding. They will also look at where there is growth in Wayne Township to make sure they leave room. The do, however, want to focus on overcrowding.
To this extent, it seems a company isn't needed to do a review then? The response was it should be a low effort, but they still might need the assistance form a vendor. They are contacting other districts to get other vendor names.
Timeline is tight. They got numbers today. They are looking to see how many kids and what they are looking at. They are working to form committees to see what families will be impacted. They are not trying to limit input but trying to limit impact on change. They are looking at final approval for redistricting / changes at the December Board meeting. There will be a work session in November. Again, the goal is to keep this as simple as possible. They will slide the date if needed, but they want to let parents know before the new year if they will be impacted the next year.
The hope is to only impact the elementary schools and to try to avoid a second impact two years later.
Board comment on Feeder System – Sounds like we are delaying a review of feeder systems.
They are aware of those goals. This will be addressed when they do a district wide redistricting. This will likely happen post-pandemic. Better to wait for home sales to normalize and things to settle before jumping into a district wide redistricting.
5.02 Joint Pre-Bargaining – Public Hearing
This agenda item is a PUBLIC MEETING, so it is briefly opened to public comments without the need to sign up in advance. Many of the budget topics that the school board will cover are also made into public meetings.
Pre-bargaining has been happening since the middle of July. There is a tentative agreement and final approval that will happen in the future.
Two people signed up to speak on this topic, but were actually wanting to talk on policies changes. There ended up being no public comments about pre-bargaining.
5.03 – Policies
There is a first read of three policies. They do two read of policies, so these will be back to another meeting as well. The policies for tonight were:
K02.00 Gifts/Donations to Schools
Change in the value from $2500 to $5000 or more. Gifts/donations of this amount require approval of the board.
I05.02 Access to Materials Relating to Personal Analysis, Evaluation, or Survey of Students; Consent for Participation
Consent for participation. They received some legal guidance on this policy Some of the previous codes in the policy had been cut and pasted and were out of date. They have included minimal changes to align the policies to be more in line with current law.
Consent information will need to be updated to align with legal codes
I05.03 Responsible Use of Technology and Internet Use
Combined staff and technology usage among other changes. It is quite lengthy, but all technology related items are in one policy.
Order of information was changed – such as moving terminology near the beginning.
Added virtual learning to policy – scope of instruction
Indiana Code is included in the policy. An update in 2021 required exact wording
They have also included in number 9.A language to help protect privacy and virtual concerns in classrooms.
Slight revision in language usage of 10.b related to social media.
You can find the specific suggested changes in the documents on Board Docs attached to the meeting agenda.
PUBLIC COMMENTS (5 People)
<1> Ray
Thanked them for doing the markup on the policies online. In 5.02, instructional materials are included as part of the curriculum materials. Suggested title of policy should be expanded to reflect this.
Commented that there are several open-ended comments in policy. Superintendent "may" developer procedures. He suggested it should be changed to "will" so that it isn't an empty process.
For "reasonable period of time" needs to be defined clearer in a couple of places. There should be a fixed set of time, especially for instructional materials where there could be changes for materials parents object to.
In 5.03 – Commented on IC codes. The IC codes defined "matters". He mentioned that the "matter" can be anything. There is a code that says more specifically what objectional materials are. He suggested the board follow this code and the result might be that some of the objectional materials in the library might be resolved.
<2> Diane Eaton
Parents right to inspect instructional material. Her points are to look at expand who can request the materials. Policy says "parents". Suggested it should include 'guardian' and possibly grandparents and/or taxpayers.
She also commented on what is a "reasonable period".
The statement to provide to students 'any materials'. Materials should include anything used in the classrooms. This should also include books and materials read to the classroom. These are not given to the students, but are used in the instruction. PowerPonit presentations are also used and not given to students, so those would be good to include as well.
<3> Dawn
Talked on Consent (5.02) – The one specific concern is the Panorama and the use of 3rd Parties for surveys. Parents are not made aware. While the information might be posted on a site, that requires effort to find. She would like a notification of what surveys are there, who's doing them, and what they are doing. Suggested an Opt In versus Opt in – especially if they don't know what the survey is.
Data privacy. Having been impacted by hacks, she is concerned about data privacy. What are third parties doing to collect data, who has access, what are the end goal objectives. Do parents have access to that data as well?
<4> John –
5.02 – Specifically as it relates to making it available to parents…. As under subsection B….
A survey is to ask many people a question or series of question in order to gather information about what people think about something. A quiz is a short written or oral test. He was surprised at a quiz he got in the first week or so of school that asked a number of ideological. This was a Senior level government test. One of the questions was something like: Should funding for local police departments be redirected to social and local programs? Another: Should the government be allowed to force people to be vaccinated. Final question: What is your stance on abortion.
He did meet with principal on this. (His time ran out)
<5> Dr. Anthony S.
There in concern for the parents of the district and the students. Glad to see state and federal law backing the policies. He had questions but didn't fault the board if they didn't' answer, but he stated that he could answer for them if they didn't want to answer.
Do board make policies? Yes. Do they change policies based on what others said? Policies. They make the policies.
The doctor asked who makes the laws? He indicated that he has found some that violate law such as Title 1. He pushed that they can't mandate things. They are survey kids with their masks on. Masks don't work. He's a doctor. He's done the study.
Janet commented that the public comments need to be about the policies.
He said, "Yes surveillance).
His time ran out. My observation – This turned into another anti-mask presentation.
BOARD Comments
Is emancipated needed with changes? Not likely
Instead of saying "his and her" they should refer to "the student" or "their". Remove "his and her". Comment was made that repeating the word "student" makes it harder to read, but that the pronouns can be reviewed to be more neutral as well as to include "parent or guardian" instead of just parent
When they had the original, there was "CD" on the policies. (on policy 5.02).
Julie suggested the title should be updated to include "and review instructional material" (or something similar). There is a policy under curriculum for reviewing material as well. This policy was more for surveys and such items.

There was a Skylert that went out in March of 2020 that described the Panorama survey that overviewed what was in the survey and how to opt out. So they stated that they have notified parents. (My Comment: They need to clarify whether they sent out a similar notice after March to parents who are new to the district / schools after March…..)

Julie commented that they need to clarify that the policy needs to be clarified that it relates to survey and not other areas. They might need to do a review of this policy (5.02) and the curriculum survey to make sure they have reviewed the two, so they are each clear and not overlapping. This policy (5.02) might get delayed from a second reading next meeting.
Michelle commented about the Parent comments on the Senior Class Government Survey? IT was stated that there needs to be context for the survey. What was the purpose of asking those questions? Was it for self-discovery? How is the information being shared? There are questions that need to be understood in order to comment on that survey. There was a question of would the teacher giving that quiz be violating that policy. That survey is different from the district/schools collecting data. That class survey was focused on a class, so it is different.
6.01 Matters of Corporation Interest
Dr. Stokes talked about a couple of items including The "Successful School Return Program".
HSE Foundation was provided money from United Way. The school worked to create a Successful School Return Program along with a couple of other organizations. The grant covers funds for this. Parents have to request the program. There have been 27 requests into the program. Therapists are working with 16 of the students. There were students that did have fear of coming back into the building. This has helped close the gap in some needs. It's something parents don't have to pay for.
Second…. HSE Schools has been awarded a $50,000 Secured Schools Grant. As they continue to work with FPD and our SROs, she wants to go on record thanking them. The $50,000 is used to offset the salaries and benefits of the SROs. She hopes that the district can continue to receive grants like this!
Shout out to community and thanked them for trying to work with the district. Some of the changes have helped to keep students in the buildings longer. She also thanked teachers, admin staff, and all those helping to make HSE a great place for our students.
Draft Agenda
Hoping to bring back the electric bus purchase back to the next meeting. They will likely bring back two of the three policies discussed tonight as well as the redistricting topic
Mud Sock
This is a competition – football game – between Fishers HS and HSE HS. The game is this Friday (tomorrow). While there isn't a pasta drive, there is a food drive. Michelle commented on the specific food items for the food drive (I've posted on this on Facebook).
Michelle commented that she believes there is a student live stream of the game.
Things Not Covered in the Board Meeting
My notes above are very rough this time. As always, view the video on the HSESchools.org site to get the first-hand information. I'll add to these notes a few topics I wish had been covered in the board meeting, but were not:
There were 12 teachers this past week that tested positive for Covid, double the previous week. Additionally, people such as Mr. Urban have made posts indicating he was covering a PE class. This raises the question of substitutes. This was a huge issue last year and a big cause of the schools going virtual. With this being a national issue, it would have been nice to hear an update on how the district is doing with substitutes. The assumption would be that they are not combining classes to follow socially distancing guidance. I've been told confidentially that the district is making a lot of calls to a lot of substitutes and many calls are going unanswered. Do we have the substitutes we need to be functioning safely?
 Food Services. This is one of those topics that will come to mind if you read the consent agendas. I've been told confidentially a number of things about food services and the turnover, but it would be interesting to hear what the board and administration would say regarding the huge turnover that seems to be a regular occurrence in food services.
City Budgets. I was disappointed last time that little was said about some city actions during the board member reports. I'd like to hear more discussion in school board meetings about the City of Fishers budgeting as well as the impact of TIFs on schools. Specifically, I'd like to see the school pushing back on residential units being put into TIF districts. These should be exempt from TIF funds. As a specific example, adding 280 potential family units into a TIF district means that the schools will lose future property taxes from those 280 residential units. They will get referendum dollars, but not the increased property tax dollars.
# # #