The following are my notes taken from the March 8th, 2023, HSE School Board meeting. These notes were taken while listening to the meeting live, so they are not presented in the best manner and might contain errors based on what I heard. These are unedited. For the most accurate information on the meeting, you can view the video of the meeting on the HSESchools.org website.
(My comment: The kids presenting early in the meeting did a fantastic job of presenting. They did notably better at presenting than most of the adults. Kudos to the teachers they've had at our schools!)

2.01 Snapshots of Success: FJH Students/Girl Scout Troop #1937
Makenna Kenworthy, Grace Link, Sophie Holladay, Katie Bergman –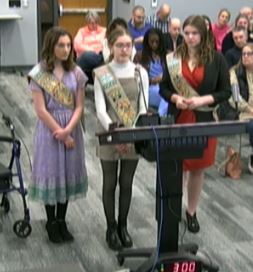 Fishers Junior High 8th graders, Makenna Kenworthy, Grace Link, and Sophie Holladay presented as part of Girl Scout Troop # 1937. They talked about working to get a bill passed that allows Indiana Foster Care families free admission to State Parks, and the Children's Museum. Sen. Kyle Walker sponsored SB151. There is more information on Board Docs about the bill. There was a lot covered in this and a good Q&A with the kids as well as discussion on the bill. One of the comments from one of the girls when asked what they had learned during the process made the following statement:
"You are taught it, but nothing ever really sticks. You never really know until you walk through it."
My comment: This is a great endorsement for getting rid of the traditional classroom style of teachers at the front of the room facing desks and making classes more engaging and interactive – the HSE 21 initiative.
3.01 Public Comments on Posted Agenda Items
The following were public speakers. My notes are sparse, so I could have caught things incorrectly. Again, see video for full comments. Note that these statements are what the presenters stated. They often include misinformation.
(1) Jim – Panorama
Don't want to see kids get short changed. Thinks kids are getting short changed. If you are ever in an accident and you are at fault, get out and yell out the other person. Keep yelling until the other person doesn't know who really was at fault. Kids are so confused on what is what. Which bathroom to use. Bathrooms as a racial program. How confusing can it get. People are intimidated by a group. Hobby Lobby, Chick fil a, others have had groups go after them.
Dawn Lang interrupted to ask how this was related to Panorama. The speaker continued.
Teach math, teach reading. Look at Civil war and how well they wrote, stay with the basics no matter how they feel about 2 + 2 equaling four.
(My comment: This older person's comments showed a lack of understanding of what happens in schools and a disconnect on what the Panorama survey is.)
(2) Eaton – Panorama
Wants board to replace Panorama, which she stated is based on feeling, with something based on character. "Character counts" is something that was used in past. Kids learn skills and positive behaviors. It is about grit, perseverance, and skills human beings need. Self-discipline skills, etc. This is the stuff employers want. If you don't have the skills when things are not working, then they are not going to be the employers need. Move away from feelings to character education programs.
(My comment: This seems like a different program and not really what Panorama is about.)
(3) Clark – Panorama
Understands that survey is just for review. There has been and will continue to be controversy on any data minding of the students including for the company running Panorama. Hopefully there will be dialog with parents and community members over the next few months. Parental consent. Says he believes it should be opt-in that parents have to sign off on.
He stated that there is inconsistent feedback with students when they take the test. It isn't clearly indicated to students that it is voluntary. Privacy invasion – is it worth spending the $152,000? If the survey is warranted, could something be done in house or with other groups? Many people think HSE should follow Westfield and cancel the program. Use the fund elsewhere. With a referendum possibility and concern about budgets, this is a way to save. Survey says things are good, need to do more. If survey shows a downtick, need to do more. He mentioned "SEL, CRT " but nothing more as his time ran out.
(My comment: The district has already spent $152,000+ for the survey for the next year, so money is already gone. District could consider replacing with something else when current survey runs out, but there will be a cost to that as well.)
(4) Ray – Transportation
Electric vehicle. He ordered a Cadillac EV. His decision on whether he will get it will depend on the tax credit at the time it is available. He compared cost of the EV bus to teachers. He went into the cost of EV buses relative to hiring teachers and such. He said that the data for the current bus needs to be closely evaluated and mentioned several examples. Battery degradation, etc.
(My comment: I've not heard the district talk about buying new EV buses at this time. They have the one they bought with the cost being offset with a grant. The new transportation center updates will include rough-ins in case there is a a decision in the future to buy or use more, but nothing substantial is being done. It was stated later in the meeting that the same rough-ins could be used for wiring lighting an security cameras in the future as well as other things. The district is also looking at more solar panels. The district could align solar panels with the buses and reduce costs).
(5)Mike – Solar Array
They are showing about an 8 to 10 year payback for the solar panels. Not his cup of tea. Not his cup of tea. He has concerns. He stated that maintenance is not included in the numbers. Seemed like there was like $20,000 in the documents for annual maintenance, but there is likely other costs. Concern isn't with the numbers. There are enough issues that the district should be focused on other things. The savings are not significant when compared to the overall operating costs of the district. There are more important issues to discuss like the Panorama survey. Suggests tabling the solar panel discussion. Why not wait to see if electrical costs do escalate, then we can deal with this. "Maybe reacting and not overreacting. We are not a utility, we are a school focused on academics.
4. Consent Agenda
4.01 Board Minutes
4.02 Certified and Support Staff Reports
4.03 Claims, Payrolls, 403(b) and 457 Salary Reduction Agreements
4.04 JUUL Settlement
Approved by all. No discussion
After approving consent agenda items, Board President moved to item 4.02, but it was indicated they were moving to item 5.01. Before moving on, they introduced Matt Rapp. With Mr. Delks retiring, a new Facilities director was hired. Matt has been Facilities manager since 2018. Lots of history and background covered. MBA, lots of good experience. WELCOME to your new role Matt!
6.01 Fishers High School FFA Chapter (Action item)
This item was moved to be covered first.
Two students presented on FFA. They covered what FFA does. (Missed their names. You can catch them and all the information they mentioned by watching the recording of the meeting). One thing they mentioned was that by having two chapters, it increases the number of people in the district that can participate in various FFA activities.
This item requested approval to start a new FFA Chapter at Fishers High School. Caroline Mills Agricultural Educator & FFA Advisor requests the approval. HSE HS already has an FFA chapter, so this will give each high school their own independent FFA Chapters with two National FFA official chapter charters. One big thing is that kids from FHS that don't drive will no longer have to struggle to figure out how to get over to HSE HS.
Q&A – It was commented that FFA goes way beyond what many people think of agriculture. It's not just about animals. There are kids doing marketing, business, and other things.
(My comment: Again, watch the live stream video. Great presentation by the kids. Lots of information I didn't capture here.)
Approval of FHS Chapter of FFA – Passed by all.
5.01 HR Update (Informational item)
Kim Lippe, Assistant Superintendent gave an update on staffing. This was done via a number of slides included here: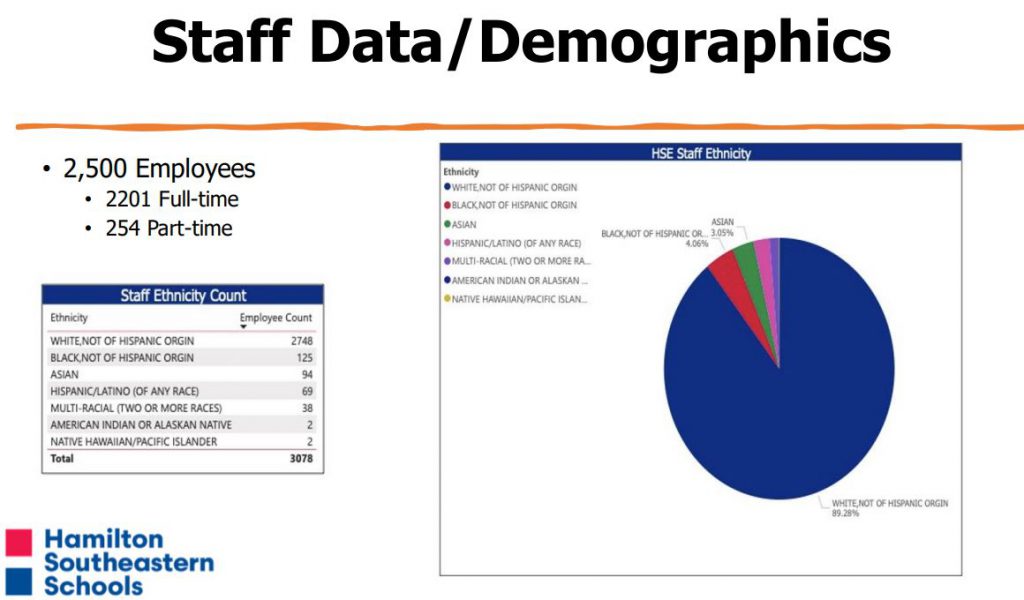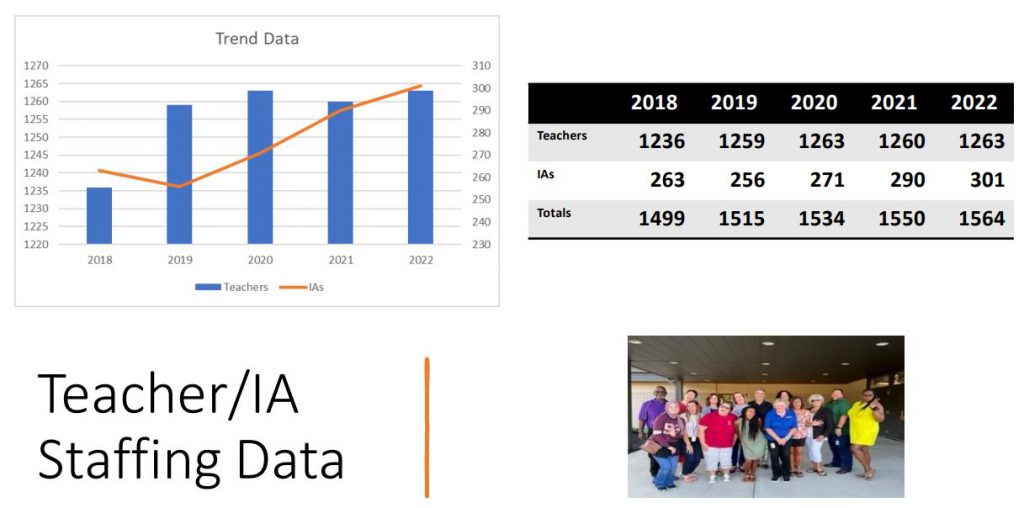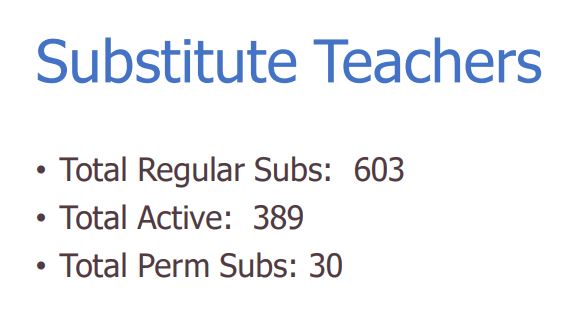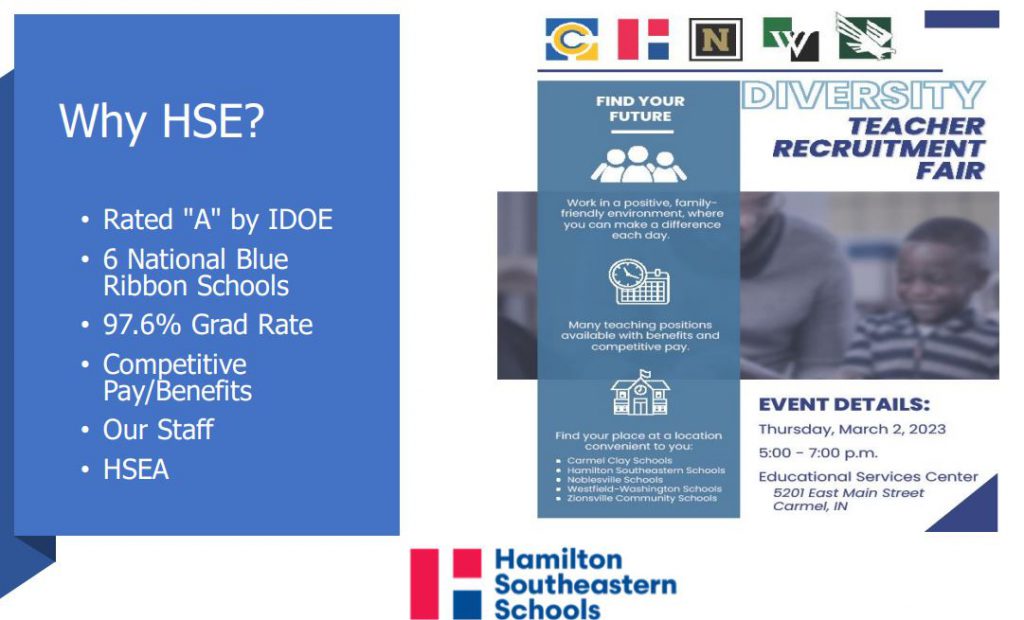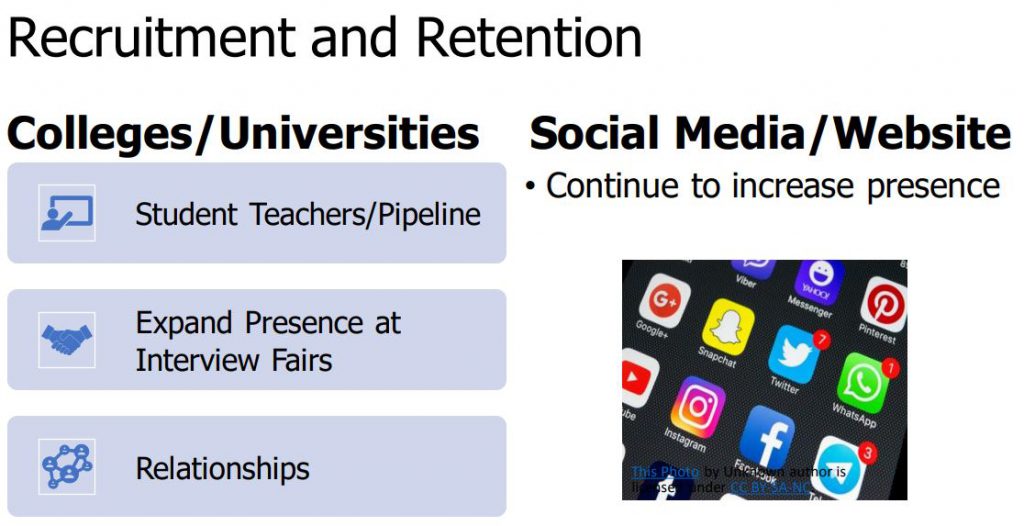 A few points to note:
HSE is the largest employer in Fishers.
129 regular subs added with many working regularly. They are getting back to pre-covid fill rates, so things are getting better. They hit an 86% fill rate today, which they considered good. They are continuing to hire.
Spring is heavy recruitment time. This is when there are retirements and such. Lots of reasons to work for HSE including positive relationship with association. 36,000 teacher openings across the country, roughly 2,000 in Indiana, 22 teacher, 18 IA openings (roughly) within HSE.
Recruitment Fair with other local cities have been successful. Had 51 people in line before doors even opened.
Recognitions & Celebrations for HSE
4th Largest School Corp in Indiana
"A" Rated District
97.6% Graduation Rate
95+ Different Languages
Home of six National Blue Ribbon Schools
USDOE Green Ribbon School Award
Repeat State and National Champion 'We the People' Teams
HSE Volleyball 4A State Champions
HSE Cheer State Champions
Q&A
Pascoe sked for the difference between active versus full time subs. (My comment: This is something that was covered multiple times over the past two years as the district struggled to fill the roles.) The general subs can choose to sub for us or any other district. They might only want a specific school or a specific date. The 389 active subs for HSE are people who have substitued more than 10 times for us.
Orr – When district wants to hire people, are we tracking when people turn us down the reasoning as to why they chose somewhere else?
5.02 Fishers Elementary School Update (Informational item)
The CFO presented on this. Mentioned there have been a lot of discussions on this in the past. There have been talks about moving versus staying. The end result due to lack of land and based on feedback was to try to stay where the school is currently located off of Lantern Road just South of 116th Street.
They have been doing design. There has also been an RFP on construction services (?). The design has to have project hearings due to it's scope. There will also need to be bonds issued for the cost of the project. The timeline for all of this will be coming back at upcoming meetings as well as requests for approvals for some of the steps happening such as designs and such.
Orr asked if things still seemed on track for when the CSO (?) contract for design was offered? (There was a little more to his question I didn't capture). The response was that there are no plans to close doors for renovation. The big component is to build an addition on the back of the building while school is open.
There was nothing to approve at this time. Comments on CMC. The district can move forward with CMC and such before the public meetings. Construction and bond timelines will come up in a meeting next week.
5.03 Technology 10-Year Plan Update (Informational item)
A ten year plan was presented for technology. A lot of information presented that is contained within text heavy slides. The following is text from the slides:
HSE Technology has built a robust and scalable network infrastructure to accommodate the growing demands of devices requiring connectivity. Currently, the HSE Network supports:
All Departments (Facilities, Food Service, Transportation, etc.)
30,000 end user devices
2,000 Telephones
1,800 Wireless Access Points
1,500 Security Cameras
300 Access Control Readers
HVAC Monitoring Software for 24 Buildings
Staff and Student Mobile Devices
4-year Replacement Cycle
Ensures devices will have adequate battery life and continue to receive operating
system updates.
Current project – High School teacher devices / iPads grades 5-8
Desktop Computers
5 to 7-year Replacement Cycle.
Desktops can stay in production for a longer duration as these devices do not
require a battery and technology doesn't advance as quickly as mobile devices.
HSE is Dell Certified to perform internal repairs.
Current project – Elementary and High School refresh
Wireless Access Points
5 to 7-Year Replacement Cycle
Replacement based on usage, advances in WiFi standards and product support
life.
Current project – Elementary Schools
Network Hardware
7-Year Replacement Cycle
Replacement based on usage, advances in technology and product support
life.
Current project – Junior High Schools
Servers
60 Servers
6 to 8-Year Replacement Cycle
Current Projects – Replacing servers used for district backups, email archival, security camera system
Security Cameras
1,521 – Currently Installed Cameras
Implementation– Collaborative effort between School Safety Director, Building Administration and Technology.
5 – 7 Year Replacement Cycle
Current Project – 110 planned installs in 2023 district wide.
31 installed in February 2023
Copy / Print
Started replacement in the last couple of years. Evaluate need before replacing.
Projection systems
Each classroom has a projector and the ability to display wirelessly and hardwired as needed.
There is not a more current technology on the market that would benefit our environment
Preventative maintenance is done; Techs are certified to perform Epson repairs so issues can be resolved internally.
All schools have projectors in large venue areas and are current as well
Q&A –
There is some hardware at some of the external places such as Conner Prairie (WiFi), Hub & Spoke, etc.
Cybersecurity – Antivirus is used. Firewalls in place. 2-Factor authentication. Forced password complexity. Limited emails restricted from containing personally identifiable information.
Are any apps being evaluated. Such as Adobe has had issues in the past. Response: One key is keeping security patches up to date. They vet apps. For rental devices, the district controls what can be installed. Those devices install from local copies.
TikTok? Is this allowed? District doesn't allow TikTok on rental devices. Kids that don't rent can have anything on their devices. They can block sites on the school network. Access is blocked to TikTok even if it is on a device.
Does the district have cybersecurity insurance at the level that is needed? CFO said this was enhanced recently. The district covers a million dollar coverage which was just doubled to two millions. With eh size of HSE the added million seemed necessary.
There are caveats the district has to follow regarding security.
5.04 Panorama (Informational item)
District has paid $153,825 to cover the cost for 2-1/2 years. That's an annual total of around $61,130. This includes project management and professional development fees. The district is one year into this contract.
First survey was in 2019. Is administered now twice a year. Takes 10 to 20 minutes to complete survey. Less than 5% of students have opted out. Response rate is 80%. Administered in spring during times to avoid conflicting with other testing. K-2 receive a streamlined survey. Other grades receive two pieces. The questions that are asked on the surveys are on the HSESchools website, so there is complete visibility into what is being asked of students.
(I got sidetracked for part of this discussion, so see video for full coverage).
If a student doesn't feel safe, they are not going to perform well academic. School improvement plans are created using this data.
How did school gather data prior to Panorama? There was a district analytics committee for about two years. Lily Grant paid for Panorama initially. Current funding for the Panorama survey is from the Operations Fund. This could change in the future, but technically it can be paid from any of the three operational funds (which would include Educational funds).
How is the survey used? At the school level it is used to create School Improvement Plans which have a school climate and culture components. It also has to identify school level needs. At the district level, it is used to monitor and evaluate SEL work as well as used as another data point for district planning, assessment, and implementation.
Confidentiality is something that continues to come up. What are the tags that are used to identify the data? Is the data tagged to the schools? Data is aggregated broadly across the schools. The database operating behind the scenes (that Panorama controls) has the data with a child ID. Response was that only a limited number of people have access to student level reports such as guidance counselors and principals. Even then induvial answers are not seen – it average scores in categories. The individual student reports are associated to a student name.
What other tools are used? Response – they try to avoid other surveys because they don't want to hit kids with more, so this is what they use.
School Improvement Reports are required by IDoE. The Panorama survey is sited several times in this reporting.
Board member Asked that the Panorama Survey be moved to an Action item. They asked the lawyer if they could do this, who said they believe they could. The board took a vote on moving the item from Informational to Action.
Voted by individual member for this — The two Sarah's said no, all others said yes so item was moved to action item even though they had not let the community know in advance of the meeting that they would be doing this. (My comment: This action lacks transparency with the community in that it didn't forewarn the community that the item would be voted upon for possible removal.)
Suzanne motioned that they discontinue use of Panorama, seconded by Tiffany.
It was indicated that the panorama Survey has been paid for 2-1/2 years. There is nothing in the contract that allows the district to recoup the funds. In short, $90,000+ has already been committed for the next year with the survey, so that money would be lost.
The board VOTED TO DISCONTINUE USE OF PANORAMA:
Vote passed – Dawn and the two Sarah's voted against this.
My comment: This action was $90,000 basically thrown away plus the board committed to spend more money to replace this with something created internally to meet state requirements, (My comment: which likely will cost substantially more if they expect it to be as secure – or more – than Panorama. So the board just tossed out $90,000 and agreed to spend more. I expect there will be "fiscal conservative" comments on social media regarding this. I whole heartedly disagree with this vote. If the issue is security as one board member indicated, then they should remove all data from the internet and any connected networks. It's 2023 after all.)
(My comment continued: Board members talked about this a little bit more at the end of the meeting. Sounds like this vote might have been pre-planned.)
((( Slides were presented about the survey that were not on Board Docs at the time of the meeting.)
6.02 Award of Transportation Project Bid to Brandt Construction (Action item)
The Transportation Center Parking Lot project is ready to move forward. Facilities requested approval of Brandt Construction to execute the expansion.
HSE received three bids for the project that ranged from $5,950,000 to $6,389,252. Brandt Construction was the lowest responsive bidder with a base bid price of $5,950,000. Additional vehicular parking, light fixture replacements, and electric bus charging infrastructure were included as alternates. The base bid plus the three alternates have a total cost of $6,472,000.
In addition to the construction cost, HSE incurred soft costs such as design expenses, soil and geotechnical studies, and other miscellaneous project expenses. Based on the hard and soft costs, the project maximum is $6.8M.
Approved –
6.03 Request Board Permission to Issue RFP for Additional Solar Arrays (Action item)
The solar that SCE, SCI, and HIJH use average over 3 million kWh annually. That would cost $432,994 at today's rates. HSE paid Duke $66,684 in 2022 for those schools. That's a savings of $355,310. With additional rate increases expected, the HSE facilities is looking to see if additional solar panels can be installed to mitigate future costs. They are looking to permission to request proposals for additional photovoltaic solar arrays. This is just approval for proposals, so no spending is being approved.
The hopes is to add more arrays under the following tentative timeline:
March 8, 2023 – Ask permission to issue RFP
April 2023 – Publish RFP
April 2023 – Optional site tour
May 2023 – Receive proposals.
May 2023 – Evaluation committee meetings
TBD – Possible interview
TBD – Make a recommendation to the School Board *would know budget at this point.
TBD – Lead time on material (2-3 months)
TBD – Construction (3-4 months)
The timeline is based on the timeline for installing the existing solar arrays.
Approved
6.04 Custodial Services Agreement – Amendment 1 (Action item)
From BoardDocs:
The current custodial agreement provides that if a school district head custodian resigns or retires, the contractor may be asked to staff the position. The head custodian at Brooks School Road retired at the end of 1st semester. The district was unable to fill the position. At that time, the district asked SSC to provide/recruit a qualified head custodian. Training began in December. Both SSC and the district are satisfied with her performance. In addition, staffing this position with our provider saves the district roughly $25,000 in salary and benefits. Adding this position requires an amendment to our original agreement that was previously board approved.
I missed any discussion on this, but assume it was approved
6.05 Policy Second Read: (Action item)
Policies covered in this meeting follow. This is a second reading, so board members have seen all of these before.
G03.02 Employee Benefits (formerly Certified Staff Fringe Benefits)
D08.01 Signing Authority (revisions at the request of CFO)

Suzanne asked that this policy be tabled until the 22nd so that questions could be asked of Legal.

It was asked if there were questions that could be entertained within the meetings so that they could move forward. Suzanne was asked to clarify what the issues were. It came across that Suzanne wanted to talk to the lawyers and not bring the issue(s) up in the meeting. (My comment: Sounds like good time for a freedom of information request to be made if a board member isn't wanting to be transparent on their issue.)

CFO commented that the policy used to allow anyone to be allowed to sign on things with approval. The $50,000 language was added as a result of meeting compliance. This pushes to get things to streamlined and covering it. She asked why issues were not raised prior to a second read. Orr commented that he saw no reason that the new policy needed to be passed now and couldn't wait for two weeks. It was mentioned there is a policy meeting tomorrow where this could be reviewed.

MOTION TO DELAY POLICY PASSED
Policies to be rescinded:
D07.01 Authorized Signatures – absorbed by D08.01
G04.00 Support Staff – not required by law, overlaps with B04.02
G04.01 At-Will Employment – already provided by law
G04.02 Support Staff Hiring – no legal requirement
G04.03 – Support Staff Benefits – absorbed by G03.02
I got lost on what they were voting to approve., but things seemed to pass other than the one policy that was delayed.
7.01 Board Members Reports
Members of the board were able to report on meeting and committees that they attended.
Suzanne –

Foundation committee. Game Day raised over $200,000.

Facilities – They meet again on March 16th
• Sarah Parks-Reese: Noblesville Redevelopment Commission
Meetings were February 10, 2023 and February 17th, 2023. A document is available on BoardDocs with notes from the meetings.
Orr

Fishers Redevelopment meeting – nothing has happened

Lang

Referendum meeting next week. There has been one stakeholder meeting so far.

These are open to public to watch. Won't be aired live.
8.01 Superintendent's Report – Matters of Corporation Interest
Dr. Stokes has been traveling. Went to conference in Nashville Tennessee on providing academic excellence and more. Was engaging and a lot of partnerships to be built to help students beyond the K-12 setting.
A few things coming up. Summer is coming. District will be offering free summer lunches June 5th July 21st at FJHS. School will be closed July 4th week. Time for lunches will be posted. This is available to any students that are 18 and younger. No proof is required, but child has to eat meals on site. Employees will be paid, but volunteers will be needed to keep costs down. Will start advertising in early May about this. Any student within HSE can come to this.
Issues and errors on State of Indiana direct certification system. This is the system that informs free and reduced students about book fees and such. All students that should have received benefits will have them applied and backdated to the beginning of the year.
No school on Monday – it is a flex day.
(My comment: Dr. Stokes was moved from the center position next to the Board President to the end of the board members and next to a legal person who was added to the front table. Nothing was stated as to why they shifted her position.
8.02 March 22, 2023, DRAFT Agenda
I don't believe anything was stated about this.
9.01 Board President's Report
There has been expressed interest by fellow board members that they want to make comments. So she is allowing for this.
Pascoe – Roberts rule of orders were not followed in the last board meeting regarding the Mental Health grant. She stated that there was a grant voted on at a previously meeting. She read more of a statement, that I didn't catch.
Albright – Commented on the mental health grant as well. She stated that as a medical professional she works with people on mental health regularly. She hopes they can weave the mental health into the academic excellence. She is concerned with continuity of service and hopes that this can be worked as well. (My comment: Continuity was addressed by the administration when this topic was covered in the working session. They mental health professionals work to provide services through the summer.)
Park-Reese – She is disappointed that the Panorama, which has an opt out rate of less than 5%, was voted out and they are just wasting money.
Thomas – Made an "Unequivocal comment that they support mental health". She referenced the impact of the grant on budgeting. Her position will always be to pay teachers and IA more. She read a statement as well. Commented that board should be consulted before press releases go out.
Lang – While she doesn't believe that the Panorama survey is the best, she didn't want to leave the administration in a lurch. We are leaving the district in a situation where they have to scramble to find a tools to meet requirements. She stated that she didn't get a chance to voice her concern prior to the vote because Robert's Rules were not followed earlier in the meeting.
She went on to state that academic excellence is a priority focus for the board. This is an item the board will be calling out going forward. They want to call out the success stories to show how they are meeting the academic excellent standards. She mentioned the Fishers Robots team and mentioned PLTW and her daughter going to Rose Hullman. She knows the benefits of kids engaging in STEM programs.
She also mentioned the Indiana Graduates Prepared to Succeed (GPS) dashboard, which combines data sources into a dashboard. It shows specific data points for schools. It shows HSE is proceeding exceptionally well – which she pointed out. The HSE page can be found at https://indianagps.doe.in.gov/Summary/Corporation/144.
(My comment: So did the Board President just stated the school is doing very well academically as per the data on the state site. That's interesting to hear considering the four board members ran on the point that the school was failing academically. That's either amazing work in 2 months, or else the information stated while campaigning was not true. )
It was an interesting meeting that is likely to light up social media a little bit.
# # #
Update: Corrected a reference from Donsbach to Park-Reese.