Looking for something to do with the slightly older kids that doesn't violate social distancing? There are a few places in or around Fishers where you can canoe or boat. Indy's Child just posted an article, "Where to Canoe and Kayak in Central Indiana," that lists several places in Central Indiana where you can canoe or boat.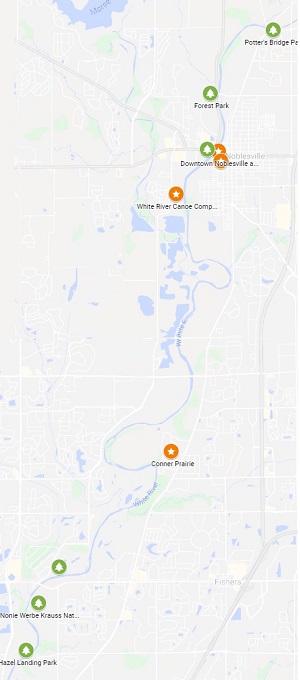 While I've posted on this topic in the past as well, with summer in full swing and social distancing in place, it seemed like a good topic to write about again!
The White River
The most obvious place to canoe is the White River. You can canoe on the White River with your own canoes (or kayaks), or you can visit a canoe rental company such as White River Canoe Company (WRCC) on River Avenue in Noblesville. WRCC rents canoes, kayaks, and tubes. More importantly, they will drop you off and pick you up if needed. They have several options on where to start and end. One of their paths includes canoeing down the White River along the edge of Fishers.
If you choose to use your own canoes, there are a variety of places where you can enter or leave the White River. If you want to canoe along the edge of Fishers, then an easy launch point to start is at Forest Park in Noblesville on the West side of the river. There is a parking lot with an easy access boat ramp for launching your canoe.
You can also go further north to Potter's Bridge on the east side of the river. On the north end of the park (just past the main parking lot) is a small parking lot that is closes to the canoe launch. You'll have to carry your canoe down to the river, but your trip will start by going under the Potter's covered bridge. As a note, if you want to do tubing, then it is most common to start at this same Potter's Bridge location and float down to the Forest Park river entrance.
You can also go further north the the Rusty Oar entrance. There are also entrances to the river at What River Campground, Lafayette Trace, and Perkinsville; however, these make for extremely long trips to get back to the Fishers area.
As mentioned, if you start at Rusty Oar, Potter's Bridge or Forest Park, then you can canoe down to Wapihani Landing also called White River Landing, which is at 116th Street. You can drive your vehicle right down to the river on the Fishers side (east side) for pickup. This is a common area to end canoe trips. You can also go further south to Hazel Dell Landing, which is on the west side of the river (Carmel), or you can continue even further south.
Saxony Lake
If you are looking for something a little more low-key, then there is Saxony Lake on the east side of Fishers. You can rent single seat kayaks, tandem kayaks, pedal boats, and stand-up paddle boards that can be used on the lake.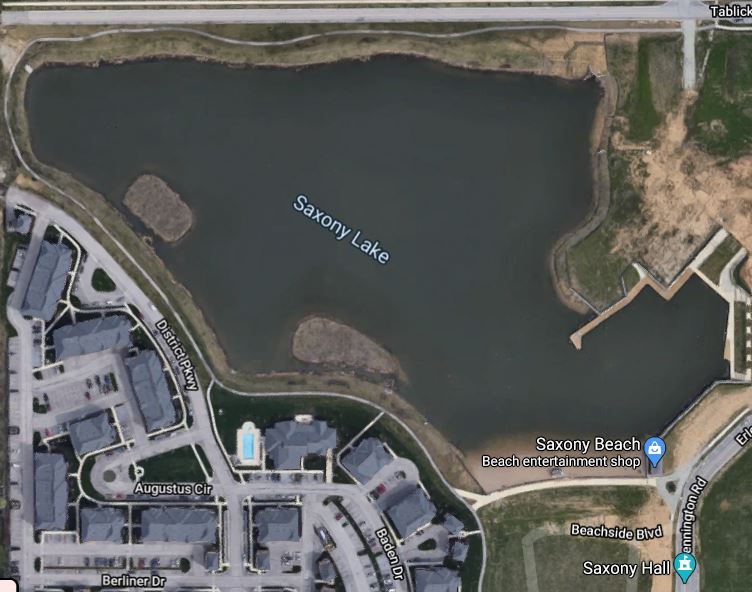 Geist Reservoir
You can also rent kayaks and tandem Kayaks on Geist Reservoir at the marina off off Fall Creek. The marina will also rent pontoon boats for those looking for something a bit more relaxing and that can hold a lot more people.
Fall Creek
On the northeastern end of Geist at Fall Creek, you can also access Fall Creek and Geist at Geist Park. This park includes a small ramp where you can launch your own canoes or kayaks.

Summer of 2020
2020 is the summer of social distancing. Like many outdoor activities, the number of people during the week-ends is much higher than during the week. Canoeing from Potter's Bridge is likely to be somewhat congested on a nice Saturday versus any day during the week. The same will be true of any of the other water locations.
Additionally, because of the pandemic, if you plan to rent a boat or kayak, then you'll want to call ahead. At the time this article was written, some rental places were still closed and others were renting and lower capacities.
Canoeing, kayaking, or simply getting out to the waterways around Fishers is a great way to spend a sunny day. It is also a great experience for kids that can be had within 20 minutes (or less) of Fishers or even without leaving Fishers!
# # #