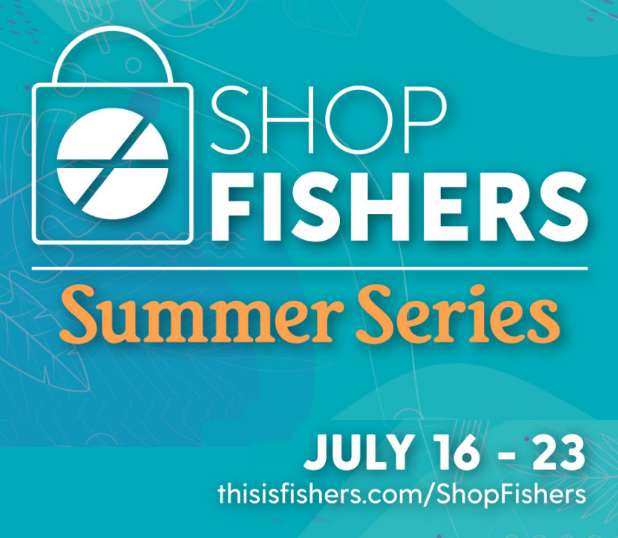 The City of Fishers has announced that they are doing their third-annual Shop Fishers: Summer Series event. This is a week-long event from July 16th to July 23rd where they feature special deals and promotions from over 50 local restaurants and shops. The idea is to encourage you and others to shop and dine at local businesses throughout the week.
To help make this happen, there will be deals ranging from 20% off your purchase, to buy one get one free, to discounted gift cards. They state that "you can soak up the summer's best deals with back-to-school bargains and end-of-summer fun."
Businesses participating in this event include the following. Also listed is the special that they have for the Summer Series event. (See https://www.thisisfishers.com/shop-fishers/ for the most up-to-date offers. Below is subject to change):
FOOD & DRINK
101 Beer Kitchen
Receive a free order of Loaded Housemade Tater Tots or Housemade Soft Pretzels with the purchase of any entrée, limit 1 per table.
Bay Area Bistro (Fishers Farmers Market)
Buy 2 dozen frozen lumpia and get 6 pieces free.
Brighton Farms (Fishers Farmers Market)
Enjoy the Brighton Farms Combo, which includes Sorrel, Ginger Beer, and Tamarind for $27, while supplies last.
Fishers Test Kitchen
Enjoy 15% off the July specialty dish at the three food pods.
Four Day Ray Brewing
Receive a free pint glass with a $50 purchase, limit 2 per table.
Greeks Pizzeria
Get the Family Meal Deal, which includes an XL cheese pizza, medium specialty pizza, breadsticks, and a 2 liter for $36.49.
Handel's Homemade Ice Cream
Get 2 small cones for $6 when you mention Shop Fishers.
Jack's Donuts Fishers
Receive 20% off your order when you use the pick-up window.
Kim's Key Lime Cookies, Inc. (Fishers Farmers Market)
Spend $25 and receive a free bag of Kim's Key Lime cookies.
MashCraft Fishers
Get a $5 bonus for every $25 gift card purchase, receive 25% off all apparel, and get 50% off an appetizer with the purchase of a beer. Limit one per table.
MOTW Coffee & Pastries
Enjoy 20% off all specialty lattes
Ohana Donuts and Ice Cream
Parks Place Pub
Enjoy the 3P Shop Fishers Date Night, which includes an appetizer, 2 entrees, a dessert, 2 16 oz. Draft beers, and a $10 gift card for $40.
Pearl Street Pizzeria & Pub
Receive 15% off a dine-in purchase Sunday through Thursday when you mention Shop Fishers. Offer valid for dine-in only, no carryout.
Schoolhouse 7 Café
Buy one drink, get the second 50% off.
Sun King Fishers Brewery
Enjoy 20% off merchandise, excludes all beer and spirits sales.
Tasteful Times
Buy one block of cheese, get one free. Discount applies to the least expensive item.
The Bubble Tea Lady (Fishers Farmers Market)
Enjoy a small 16 oz. Create Your Own Bursting Bubble Drink for $3 or a large 24 oz. Create Your Own Bursting Bubble Drink for $5.
Wesson's Canine Bakery (Fishers Farmers Market)
Receive 10% off your purchase at the Fishers Farmers' Market.
BOUTIQUES
BluePeppermint
Receive $10 in BluePeppermint Bucks for every $100 you spend and take an additional 20% off all sale items.
Cynthia's Hallmark
Get 25% off your entire purchase. Excludes Yeti, Hallmark Keepsakes and Ornaments, prior purchases, special orders, holds, and layaways, cannot be combined with any other promotions or coupons.
Fishers Apparel Store
Receive a free, limited edition Fishers Sesquicentennial sticker with any order, while supplies last.
HopeAnchor & Crew
Buy 4 pieces of jewelry in-store, get 1 free.
Roman & Leo
Receive 20% off shorts and tanks.
Shop Gina Celeste
Get 15% off your purchase with code SHOPFISHERS.
Twigs & Tea
Buy 1 piece of jewelry, get one free and receive 20% off clothing.
HOME & GARDEN
Allisonville Home & Garden by Sullivan
Receive 15% off any gift shop item.
Fishers Flower Farm
Receive 10% off your online purchase with code SHOPFISHERS.
Fishers Woodworking
Get $100 off any BBQ table with code SHOPFISHERS.
High Frequency Arts
Receive 10% off purchases of $50 or more in-store or online.
Unplug Soy Candles
Receive a free Gold Tin candle with a $75 purchase, limit one per customer.
Wasson Nursery
Receive 15% off any plant purchase in-store only and $1 off any alcoholic beverage purchase.
FAMILY FUN
Conner Prairie
Receive $2 off admission with code ShopFishers22 when you purchase online.
Fishers Maker Playground
Buy 1 month of membership, get 1 month free.
Mathnasium Fishers
Get $100 off assessment and enrollment when you mention Shop Fishers.
Nickel Plate District Amphitheater
Pinheads
Receive 1 free "Dark Ride" 4D Gaming Experience Pass when you mention Shop Fishers in the Pinheads Arcade Redemption Room.
Play It Again Sports
Receive 20% off any item valued up to $100, not valid on prior purchases or discounted items.
Wishes Dance Studio
Buy 1 month of class and get 1 month free.
HEALTH & SELF CARE
CycleBar
Buy 3 classes, get 5 free.
David & Mary – The Salon Experience
Get 25% off all David & Mary products in salon and online with code Shopfishers25 and receive a CoolPeel CO2 laser treatment for $500.
Fit Chicks!
Get 5 personal training sessions for the price of 2 when you complete the form and checkout online at beafitchick.com. Also, mention Shop Fishers to receive $50 off a full membership.
Honor Yoga Fishers
Get 50% off your first month of membership and receive your first class free.
KruFit
Receive 25% off one month of training.
Runners Forum
Receive $15 off your purchase of $50, some exclusions apply.
Source Yoga Center
Enjoy 10 classes for $100 when you purchase online or in studio, expires 10 weeks from your first class.
The Anxiety Relief Center
Buy one session, get one 50% off.
The Hot Room
Receive 3 classes for $30 when you purchase in studio, limit 1 per customer.
The W Nail Bar
Enjoy 20% off one service with code SHOPFISHERS.
SERVICES
Citizens State Bank
Receive a free gift with every new deposit opening account.
Ztech Design
Receive a free logo design for Indiana residents and business owners and 20% off all web design services.
You can find more information including specific offers at Shop Fishers – This is Fishers. The above listed specials were taken from this site and are subject to change. This site is not responsible for any typos or erroneous information presented on this page – check the Shop Fishers link for most up-to-date and accurate information.