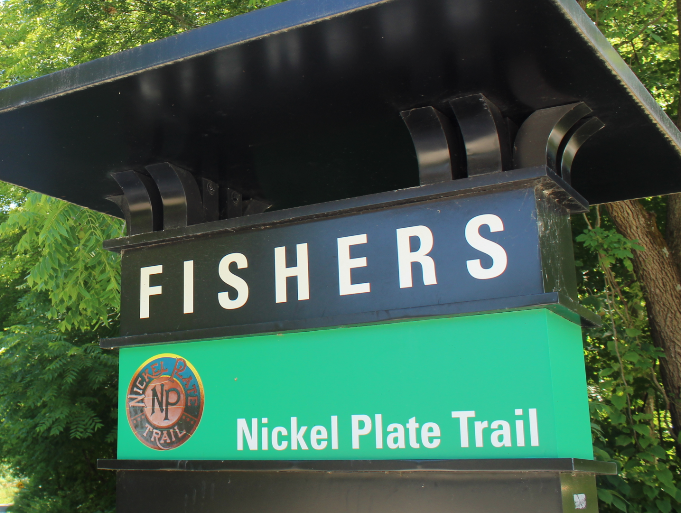 It's time for another Nickel Plate Trail Update. I'll focus on one question: Asphalt is going down, so can we use the trial yet?
The Indianapolis Star recently reported on the trail and indicated that Ashley Elrod, a spokesperson for Fishers, had stated that "city officials aren't discouraging people from using it [the Nickel Plate Trial]." This information differed from what city officials had been saying.
The city officials had been saying in meetings that the trail would remain a construction zone likely until the underpass on 106th Street was completed. This was backed by the no trespassing signs and barricades that have been placed along the trail entrance points. Of course, the plan for this summer was to do the construction in the downtown area, with areas north of 126th and south of 106th being a focus possibly for next summer.
Because of delays in being able to do the underpass on 116th, and because the construction was able to do more than expected, the asphalt is being continued north of 126th Street . Additionally, it appears that over the next few weeks, the city will be working on the road crossing at locations such as 126th and 131st. The end result is that there will be completed sections of the trail this summer outside of just the downtown area.
That begs the need for clarification on whether the trail is still off limits – what is still considered no trespassing. As such, I asked the Fishers Parks department if they could provide clarification on whether the trail can or cannot be used by residents and asked what the current target dates are for when parts of the trail will be legal to use.
Andrea Babb from Fishers Parks & Recreation provided a response that she received from the Fishers Public Relations Department. The answer is:
"The areas where the asphalt has been complete are no longer considered construction zones, so we are not enforcing the No Tresspassing orders there. We anticipate lifting the No Tresspassing order from 106th to South and North to 131st Street sometime mid-September."
Clearly this is good news!
I'll end by simply stating that with these sections of the trail opening soon, please be extremely careful as drivers and as pedestrians when you are nearing the trail. This is especially true on 106th and 131st where there are not sidewalks from all sides connecting to the trail. Additionally, with construction shifting traffic, there are a lot of drivers less familiar with the areas, so they might not be watching as closely for pedestrians. Stay safe.
# # #
Want to see what the proposed plan for the trail was? Here's a link to the 21 year plan (between now and 2040):
https://www.playfishers.com/DocumentCenter/View/1062/Nickel-Plate-Trail-Master-Plan-2040-PDF