The number of positive Covid cases in the Hamilton Southeastern (HSE) School District has reached a new high according to the HSE Schools' own COVID Tracker at https://www.hseschools.org/happenings/return-to-in-person-instruction-plan/covid-dashboard.
The number of positive cases reported last week topped 93. Another 264 "COVID-Related Symptoms" cases were also reported, which is also a new high level. This brings the total positive COVID case absences in the district to 188 and the related symptom cases to 447 in just the first three weeks of school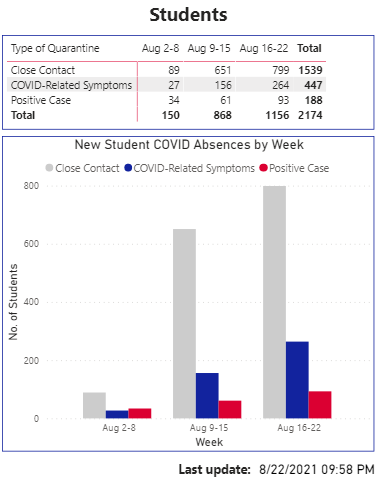 The previously reported high levels were 78 COVID cases and 201 COVID-Related Symptoms cases both reported the week of November 2-8, 2020.
While the district seems to be doing less with close contacts, the reported close contact number also reached a new high level of 799 beating the old high-level of 786 also from the week of November 2-8, 2020.

When evaluating staff cases, the numbers last week were 6 teachers reported as positive cases, another 6 with Covid-Related Symptoms, and 5 close contacts for a total of 17 impacted. This numbers are much lower than some of the historical data for staff, which at one point last school year were running in the mid 20 new cases pers week for positive cases as well as in the mid twenties for related symptom cases.
As to which schools, have the cases, you can find that on the district dashboard. A quick look showed that last week's positive cases were spread among the four levels. As you can see, the elementary schools are where the most cases were reported:
Elementary: 45 positive cases, 171 related symptom cases
Intermediate: 10 positive cases, 22 related symptom cases
(HIJH = 7 positive / 13 related cases)
Junior High: 21 positive cases, 61 related symptom cases
(HIJH = 7 positive / 13 related cases)
High School: 24 positive / 22 related symptom cases
Other: 0 positive, 1 related symptom cases
(Transportation, Fishers Academy, FOCUS)
At this point, the district has mandated masks for anyone within the schools. With the numbers climbing at such a fast rate, it will be interesting to see how — or if — the district addresses the increase. With many of the school hallways packed, with social distancing reduced to 3′ or even less, and with contract tracing at a minimum it could be a challenge for the district to get the numbers back down.
# # #
Note: This post simply presents data from the HSE Schools COVID Tracker. While FishersTOS could argue the pros and cons of masks, social distancing, and other related topics, that is not what this article is about. Rather, it is simply presenting the data. As a community, we need to work together to determine what we can do to help reduce these numbers so that fewer kids are missing school.