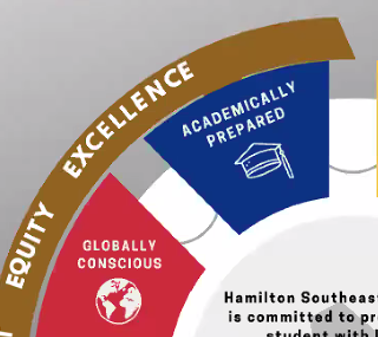 The superintendent of Hamilton Southeastern Schools, Dr. Bourff has meetings throughout the year with parents that representative from each school and represent each of the school board members. Most of these parents are generally members of the school PTOs, so they are often engaged or interacting with the schools and parents. The meetings are part Dr. Bourff talking about the current topics and issues and part feedback to Dr. Bourff from those in attendance.
The following are my notes from the October 13th, 2020 Superintendent's Advisory Board meeting. Like any notes from a meeting, they are only as good as my ability to capture the information! They are my notes, thus the reason for the more 'bullet' format.
Covid
They have learned that they need to revise contact abilities so multi-level communication attempts can be made. There have been issues connecting with the proper people (parents). For example, if a parent doesn't check email on the week-end, then the district might not be able to contact them for a case that happens on a Saturday.
Why can one child be quarantined in a household, but not the whole house?

A close contact of a close contact doesn't have to be quarantined.

The school is looking at positive cases (there was 1 so far this week. There were 3 last week), Close Contacts (there are 62 kids and 9 staff so far this week. There were 96 kids and 11 teachers last week – so trending higher this week so far), and COVID-Related Symptoms (There are 70 so far this week, there were 147 last week).
Dr. Bourf is planning to make recommendations at tomorrow's school board meeting:
Dr. Bourff plans to make a recommendation for fifth and sixth to go 100% starting Monday, November 2nd. They considered an earlier date but waiting a week after fall break seemed more prudent. 5 days isn't the full 10-14 day wait time but seemed like better than going back immediately after break.
Dr. Bourff is also planning to recommend that for the second semester that virtual only continue. They are working with a collation who requested for the recommendation so people can plan. That is what he is going to do tomorrow night.
Dr. Bourff commented that these are recommendations, so board could take a different bent on what is decided. Again, the issue of cohorting and social distancing are what have pushed against the higher grades being able to fully open. (( My personal hope is a commitment to second semester for 9-12 with a commitment to keep synchronized learning in place at the 9-12 level).
Number of virtual only students has declined at the elementary by about 400 students, and likely more than that by now. They expect that the number of virtual kids could decline at grades 5 & 6 as well once they bring them back.
Medical Service and Equity Positions
Looking to replace the Medical Services Director who is leaving to join Fishers Health Department. Also hoping to recommend a new Equity Officer in the next few weeks.
School Budget
The student count this year is about 400 students down, which is roughly a $3 million impact to the budget. That equates to about 2% of the educational funds . The educational funds is only one of multiple funds used to finance the district.  The decrease in students seems mainly focused in the number of Kindergarten students. Feedback has been that these students will be back at some point.
There will be recommendations by spring to cover for the $3 million. The district runs about a $146 education million budget (this pays teacher, principals, and a small bit to supplies), which doesn't include the referendum dollars ($22 million). Weathering through this for a year can be handled. It is if this continues forward or if there is a reduction at the state assembly, they need to be ready. 15% was cut from other programs at the state level for internal departments. Spring of 2021 is when state legislation will start focusing. If another stimulus package is passed, then a lower impact on school funding is expected. The lower enrollment number is a big impact.
Dr. Bourff indicated that $3 million is a small piece of the budget, but for the pieces of the program impacted, it could be bigger. 
They are working to reduce spending now. They have not filled some administrative positions. There have been a few resignations at Central Office that hasn't be filled. Durbin and Fishers shifted to half-time assistant principals this year instead of full time.
There will be a Public Hearing on Budget at tomorrow's board meeting (October 14th). This if informational, not approval from board.
Portrait of a Graduate
The Portrait of a Graduate is about the characteristics of students that they would like to see. This program is focused on what the outcome of characteristics they'd like to see kids have when they graduate, however, it is a program aimed at all of K through 12th grades.
Pieces will be presented at the board meeting. This is still a draft and information is on BoardDocs.
HSE21 was a model of best practices. It is like a toolbox for achieving the outcome presented in Portrait of a Graduate. If board adopts the Portrait of a Graduate model, it will impact future planning and resources.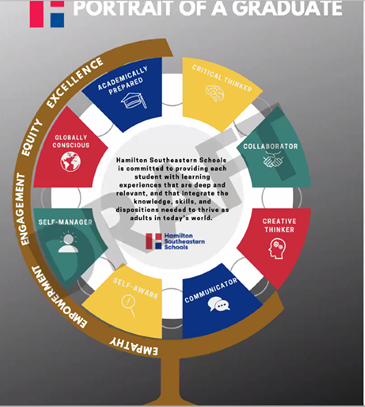 Start Time Recommendations
Start times will be discussed at an October 27th Board Work Session with a recommendation planned to be made to the board on November 11th. This may or may not be acted upon by the board at that meeting.
This would be different start time changes from what was done to make virtual and 3-tier busing work. The new times are not something that has been shared yet. The committee/task force has discussed times, but Dr. Bourff was not comfortable stating times.
Wayne Township Elementary Building
Lots of work has been done to work towards the new Wayne Township Elementary school. This isn't into the physical building yet, because the district doesn't own the land yet. Finalized negotiations of the land and are waiting for the necessary timelines from rezoning before closing.
Fall of 2022 is when the new building is planned to open.
It was asked if the new Wayne Township Elementary would require redistricting again?
In a growing community, there will always be the potential of redistricting to balance enrolment of schools. HSE will continue to see that for "at least sometime". It was noted that Southeastern Elementary has five portables, so clearly something will need to change .
Redistricting for the new school would require redistricting to be planned by roughly December of 2021. That's when the district would need a plan in place. The focus will be on elementary, but there could be division of lines at intermediate, but it should not be as drastic as elementary.
Questions, Answers, and Other Comments
Is the district planning to build an intermediate or junior high by HIJH? 
The district is looking at this. HIJH also has portable classrooms. They could build on the SEE site or the new Wayne Township property should they decided to do this. This would take pressure off HIJH. They could also look at reusing buildings in new ways.  There are no immediate plans right now to build an intermediate, but it is on the watch list.

The Future of the Durbin Building
The Durbin building has a lot of life still in it.  Utilities (water / sewage) are issues with that building. At some point, water and sewage might be ran in that area of Noblesville to where the school could then be updated. In the meantime, the FOCUS Program at FCJH, the Academy (in a strip mall at 141st/37), and the exceptional learner program that is being done could all be shifted to the Durbin building. These three programs will fill the building and be done with minor alterations to the building. This won't happen until after the shift to the new building.
Fishers Elementary School Update
The FES building needs attention. There is a placeholder in the budget to be able to do the Fishers Elementary building without a tax impact. That would let them expand, replace, or move the building. There were too many questions that couldn't be answered to move forward. Not everyone agreed with the Ritchey Woods property.
If the expected new building of possible residences happens at 96th and Allisonville, then there could be additional families (increased enrollment) that would impact the schools on the West side. (Yes, Fishers goes to 96th Street). The city has approved the development, but it will be down the road before that is an impact. (Someone asked why Fishers allows these expansions, but this isn't an expansion of Fishers, but just using space that already exists!)
3-tier Busing
3-tier busing was supposed to be more efficient; however, someone indicated their child gets on the bus at 6:59, while school doesn't start until 8:15. The student has an hour bus ride home. Dr. Bourff said an hour bus ride is excessive by the district standards and Zack will be focused on looking into the situation.
7-12 Back to School
It was commented that there are rumors it could be January before the higher grades go back 100%. It was requested that the administration make a decision and communicate it so that parents don't have to wonder at each meeting. It was stated that it would relieve a lot of pressure if Dr. Bourff would make a decision to simply state we aren't going back until January.
Dr. Bourff commented that there are several large schools that right now are looking at 50/50 for the school year. Dr. Bourff couldn't say what the schools around us are doing, and he believes they could still go back to 100% at some point. There is no decision yet for HSE. It comes down to contact tracing and distancing. The district needs to consider employees and others when making decisions. Because of the number of virtual students, they might be able to move faster with the 100% return. It was commented by someone that "sports kids" could be a big part of the virtual numbers. There are a lot more kids virtual than they expected. HSE numbers are different from Carmel and Westfield.
I posted numbers I had given me on the 8th:
Currently over all for high school (provided on 10/9/2020) – we are at 30.8% virtual. Here is the breakdown you requested.
| | | |
| --- | --- | --- |
| | Grade 10 | Grade 11 |
| FHS | 302/937 (32.2%) | 353/957 (36.9%) |
| HHS | 237/848 (27.9%) | 253/820 (30.9%) |
Patience, tone.  Changing circumstances constantly. Teachers are trying.

A parent asked, Dr. Bourff if he could address how your decisions are made in relation to "that small, angry, vocal group". For example, providing service to let teacher kids go full time, then having it changed based on the comments from that group. It was stated that as a PTO president, they want to support the teachers.
Dr. Bourff addressed the issue at the high school as being one where they don't want to give students an unfair advantage at the end of high school for getting scholarships and such (Dr. Bourff had addressed this in a board meeting).  Kids are still being provided a location to be in the buildings, they are just not doing classes. (aka, daycare).


What actions are happening as far as social and emotional health of kids?
School Services have not stopped. They continue to promote that the issues are available. Dr. Bouff indicated that there was a claim that there were attempted suicides in the district as a result of the [virtual] program. Dr. Bourff stated that they worked with local authorities to try to identify the family and child involved. The administration and local authorities could not confirm any of what was reported, so Dr. Bourff contacted the person who sent the email (who heard it from a friend). When they went back to the person who sent the email, they couldn't get any more information to clarify the situation.  (To me, this sounds odd and is very concerning.)
The district has social and emotion learning (SEL) that they are doing with kids. This has continued to be taught and happening. They also surveyed kids at the beginning of the year and use that to follow up with kids. There are weekly things happening.
Mr. Kegley commented that Junior High and High School are on a semester grading system now. There isn't a 9 weeks grade to report out.
# # #