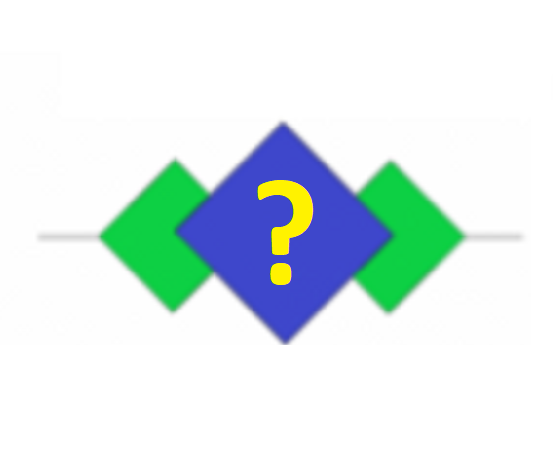 The following are the questions that have been posted the the HSE 2020 School Board Candidates group on Facebook as of October 10th, 2020. The answers can be found on that Facebook page at: https://www.facebook.com/groups/HSE2020BoardElections
Note that the posters of questions have the ability to edit or remove their questions. There are several administrators and moderators for the group that might also remove questions. While all eleven candidates have joined the group, not all have answered questions.
Note: New questions will be added to the end of this list soon after they are added to the Facebook group.
(Aug 11) If you are running for a position on the school board in the November 2020 election, tell us about your ideas.
(Aug 17) We've been told schools can't reopen until we decrease community spread. Will you advocate for closing non-essential businesses so we can open schools faster? Or do you agree with the current policy of keeping EVERYTHING open in Fishers except for schools?
(Aug 18) Question for the candidates – would you focus on opening elementary schools first, or would you hold them back so all schools are on the same schedule? (Hint…EVERY health agency in the country recommends opening elementary schools first. However, our superintendent stated this morning that this would be "too confusing for the public.")
(Aug 18) I would like to hear how candidates would work through challenging issues with their peers and the public? Especially issues that may be divisive with other board members of differing views? It seems not all current board members share the same views, and there have been some hot topics in the past couple years. The lack of transparency has been frustrating to say the least.
(Aug 24) Thanks to all the candidates who have responded! Transparency and engagement matters! Outside of COVID related topics, what in your opinion is the most important issue facing HSE Schools in the next four year term (beginning Jan 2021).
(Aug 25) Question for EVERYONE and not just the candidates.
I'd be interested in having people post a simple list of the top 3 things they think are important for the next school board (starting in January 2021) to have to deal with. To keep it clean, let's not make this thread a discussion, but rather a simple list from each poster. If you can do 3 items that are each 10 words or less, that would be great. Something like:
1 – more Transparency/Communications from administration from schools and central office
2 – eliminating referendum upon its renewal
3 – Racial equity in treatment in the high schools
This is not my list, but just an example. They are, however, good items!
BE WARNED: To keep this thread clean, discussion comments might be removed as will overly wordy responses. Let's have the wordy comments and discussion in separate post threads!
This will give everyone an idea of what people are seeing as top issues!
(Aug 27) Elections are just over 9 weeks away! Candidates, What does success look like for the superintendent role? What qualifications/ characteristics will you expect in a successful superintendent candidate? Thanks to Cory Carter and Heather Kennedy for the question!
(Sept 2) Candidates, we hear a lot about communication and the district. Tell us if (and why) communication is a part of your platform. Please be specific! Communication is often a broad, scapegoat term. It isn't typically a root cause and doesn't mean much standing alone. We're particularly interested in your perspective on who is responsible for communicating for the district, what you think the core issue is and what is the board's role (if any).
(Sept 2) Greeting candidates. First off, I thank you for your dedication and commitment in making our schools better. I am interested in hearing specific plans on how to increase diversity in the school staff (specifically on the HSE side). As well as a framework to reduce the number of racially motivated incidents in the district.
(Sept 3) Candidates – Hot of the press announcement and quick question. The City of Fishers just issued a challenge to all Fishers residents to begin to dismantle racism in our community. To support this effort – they are providing multiple opportunities for free training and discussions.
As part of your service to all staff and students, will you commit to attending a session prior to 1/1/20 (start of next term)?
https://www.facebook.com/events/1017040335399825/
(Sept 4) Do you feel the school board and administration represented all kids in last night's school board meeting (9/3)?
(Sept 7) Here's a long one from a group of local mamas…
School board members come to the board room with a range of belief systems and values. However, when school boards come to the board room their actions must stay within the confines of their role and support public education. While Indiana has an ethics policy specifically to guide school board members, there is still presence of infighting. Infighting is something known to detract from overall effectiveness of school board members. Given national examples the past five years it is clear that infighting among school boards often requires professional mediation. With these statements in mind…
1. What personal guideposts will you use to ensure that the board room is a place to support public education (including the curriculum, standards, and priorities for public education) as set forth by the state?
2. If there is ever a presence of infighting what strategies will you use to redirect the energy of the board to their key responsibilities (policy making, budgets, evaluation of the superintendent)?
3. If the school board is demonstrating infighting (albeit through public or private commentary and/or behavior) will you agree to working with a professional mediator (as other school districts have successfully done) to get the work of the board back on track towards effectiveness?

(Sept 8) Remember when the hot topic was school start times? I miss those days! Last year, the Board committed to a decision on 2021-2022 school start times by October – the world has changed and the Board focus has had to change too, so I suspect the new Board will need to take up this topic. Tell us your stance on school start times (i.e. should we flip the schedule to have the high schools start first and elementary last?) and how you came to that stance. What do you believe the impact is on all students and families?
(Sept 9) HSE has grown exponentially since my family moved here 24 years ago. Anytime there is rapid growth, organizations/companies struggle balancing long term planning with immediate needs. Much of the board's focus seems to fall on facilities and buildings when discussing long term planning. Of course we want the best teachers and resources to be available at the front line level for our students. Putting those two areas aside(facilities and teachers/resources)what are your thoughts on administrative structure, support, and ongoing planning for the HSE school district? Have you had discussions with current staff about their thoughts? (Including the superintendent, CFO, Other department heads) Please share your creative thoughts and please stay positive .
(Sept 9) Two simple candidate questions that simply ask for approximate numbers:
How many times have you been in an HSE school as a volunteer? How many times have you volunteered at an event where your child was not participating?
(Sept 9) Simple yes/no candidate question:
Do you believe students should be addressed by their preferred pronoun?
(Sept 9) This came up elsewhere, so let's post it here as an official question:
Please list the number of kids you have currently attending HSE Schools and the school level they are in (elementary, middle, JH, HS). While this is a private group, there is no need to state specific grade levels unless you want to.
(Sept 9) Aside from 1:1 tech and the current reopening plans, what is one school board decision in the past few years that you applaud and why? Conversely, what is one school board decision you are against and why?
(Sept 10) Should teachers be allowed to openly promote their personal political and social ideologies to students during school hours and on school property? (Please provide a brief explanation as to why you answered the way you did.) Thanks!
(Sept 11) Candidate question – This one is easier than some of the others (but no less contentious 😉 )
Yes/No – Do you believe that HSE should go to more of a Balanced/Year Round calendar?
If you say No, then what adjustments to the calendar do you believe are needed?
(Sept 12) What will you do to promote yourself in the community and ensure that you get voters to turn out and vote for you? What kind of support do you have?
(Sept 12) If virtual learning is allowed to continue in 2021, what changes (if any) would you like to see made to the current plan?
(Sept 12) I have a question for the candidates. What is your platform? In every election each candidate has one, so what is yours? What issue is most important to you?
(Sept 13) As a potential board member, how will you hold yourself and your fellow board members accountable to the School Board Code of Ethics?
(Found here: https://www.isba-ind.org/…/1192…/isba_code_of_ethics.pdf)
What specific action would you take if you felt someone was not upholding the Code? How do you think the board should show more transparency and accountability for this as a whole?
(Sept 14) I ask this question as it represents one of the overwhelming items that impacted me when I joined the board. Among the key roles of the HSE School Board or Trustees is to create, adjust and remove policies for the organization in areas such as Students, Staff, Facilities, School Administration, Curriculum and Fiscal Management. To read through them all is a major task and I would encourage you to familiarize yourself with them if you have not already done so. My question is, from what you know of HSE School policies what policies would you consider adding, adjusting or removing?
(Sept 14) This is a question that I posted over the weekend and removed due to questions. Will now repost with additional information. Please see the attached chart showing the state academic rankings of HSE Schools vs all other public schools in the state. I singled out 3 of our neighboring districts as they are often viewed as our peers (and to some – competitors). As the data shows in years past we have ranked very closely with these neighboring districts (particularly Carmel and Zionsville) and my older kids were great benefactors of this. In 2010 we no longer were competing as closely with Carmel and Zionsville and I certainly have my own opinions as to why this happened. That is the past that we cannot change and want to address the future with my question and comments. Also notice how Brownsburg has risen to be near the top of the rankings.
Candidates, what thoughts do you have regarding this data and what suggestions might you have to return HSE to more closely competing with these peers?
I ask this in all sincerity as a 40+ year member of the community, HSE alumni, HSE parent, former board member and Fishers business owner who loves this community deeply. We have all benefited significantly from the tremendous work of our schools by having well educated students and great property values. I would love to see future generations benefit just as much if not more.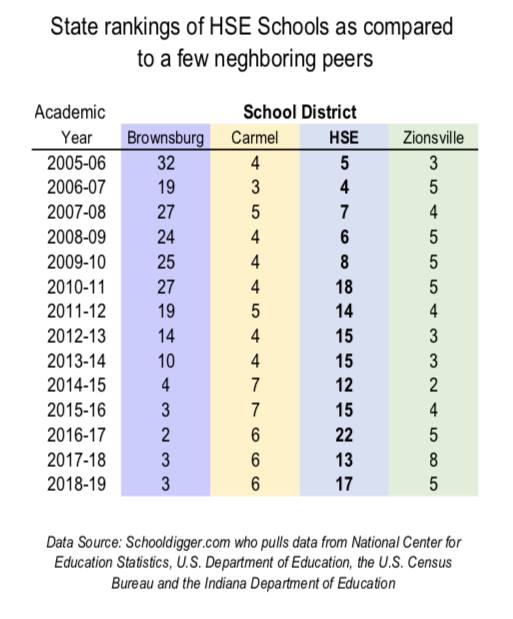 (Sept 16) If data shows something is in the best interest of the kids, but a majority of parents are against it, would you vote with the majority of the parents or against the majority of the parents?

(Sept 18) What would your position be on the HSE Purdue Polytechnic High School program that was originally set to open this fall? How do you feel the importance of this specific program and other programs that might be vocational or non-traditional would fit into your priorities if elected as a school board member? Thank you.
(Sept 18) Will you clearly and explicitly state that "Black Lives Matter" as part of your equity platform?
9/29 update: To clarify, this question has drawn quite a few "likes" from group members, but only three responses from candidates.
Are any of the rest of the eight candidates willing to include three words – "Black Lives Matter" – as a specific statement in your equity platform?
Edit #3: Make what you will of the silence.
(Sept 20) Currently some in our community feel that our schools do not have a shared vision (the school district has a mission but no vision or strategic plan, we have yearly board goals but no long term goals that are public facing). As new families move into our community they assume good test scores given our demographic, that said they wonder what we stand for as a school district (far beyond test scores) and what they can expect at every school and in every classroom in terms of learning experience.
Given this what actions would you take to clarify vision/long term goals and address questions about district level purpose and promise.
(current candidates only please)
(Sept 23) Your interest in running for school board (in what has been recently revealed to be a sometimes thankless position) is admired and appreciated. That being said, many local school districts have bylaws that specify candidate eligibility depending on potential conflict(s) of interest. Given your current career, the nature and scope of your work/employer, do you believe there is ANY potential for conflict of interest to occur? At any time, have you been/might you be in possession of an "insider" or information or directives that affect your opinions or decisions? Please also include whether or not you believe that your current employer (or their past history with the district) might cause a conflict of interest.
(Sept 28) Candidate question for those not currently on the board: If you were a board member now, would you move, or support a motion, to immediately return grades 5-12 to 100% attendance? Do you think social distancing is necessary for the K-12 setting? Please provide your reasoning to support your position.
(Oct 2) (Yes/No) Do you believe city TIFs hurt our schools? If so, what would you do to reduce the city's use of TIF districts?
(Oct 4) Candidate Question: Another 'simple' yes/no question:
Should the district add metal detectors to our high schools to improve student safety?
(Sept 16) Is ANY of your motivation to run for school board based in a "concern" that kids in the school system are being "indoctrinated" and are you interested in pursuing policies to prevent such "indoctrination"?
(Oct 9) Candidate Question:
(Yes/No) Do you have any conflicts of interest in being on the school board? If yes, what are they and how will you avoid letting these impact your role?
(Oct 10) Candidate Question:
Variations on human rights questions have been asked before, but please specifically react to the term "LGBT Garbage" by seated board member and current candidate in Delaware County (referenced post image here).
Also do you see LBGTQ rights as an agenda or human rights issue? How/Would you specifically support LGBTQ staff and students? How/Do you see a connection with mental health initiatives and LBGTQ supports?
(NOTE: a screenshot was included with this question on Facebook, bit has since been removed)
(Oct 11) My questions as the founder of this group are questions that oddly has not been directly asked (unless I overlooked one):
Why are you running for school board?
Why should we vote for you?
(Oct 11) Candidate question:
What are your academic visions for HSE school district five to 10 years from now and what changes will you work toward to achieve that vision?
(Oct 11) Question for the candidates – as a community, we have asked a lot of our teachers this year. They are currently working overtime in an attempt to effectively teach in person and online at the same time. They are rewriting curriculum and creating hours worth of new material with no additional prep time. They are adjusting to schedule switches, new cleaning responsibilities, enforcing masks, and the added risk to their health that simply being in the classroom this year means.
My question is, how will you create policies once the pandemic is over that recognizes and rewards the additional work that teachers have done to make this year possible? How will teachers be prioritized by your agenda? What will you do to ensure that teacher burnout does not affect the long-term health of the district?
Note: I know that support staff and other employees are working very hard during this time, too. I just wanted to hear about how you will support teachers, specifically.
(Oct 12) Candidate question:
Accessibility is an important part of equity. Please explain that connection as far as you understand it. How does your campaign reflect your commitment to accessibility? Specific examples, please.
(Oct 12) Candidate question:
HSE Schools have seen a decline in our state rankings. This is due to multiple factors and some newer, more focused and specialized schools being ranked higher than ours in these reports. What do you see are the 3 biggest issues affecting our schools rankings and what are your ideas around improving the education for all of our students?
(Oct 12) Candidate Question:
(yes/no) Do you believe the HSE bullying policies should be updated to include consequences for the bullying of teachers, school administration, and/or school board members by parents of HSE students?
If so, what consequences would you recommend ?
(Oct 12) Candidate question: yes or no and please give a reason. Should the HSE bullying policies be updated to include consequences for the bullying of HSE parents by school board members, and/or school board members bullying other school board members. What would you recommend? Any consequences for these actions? Thank you
(Oct 12) What value do you believe classes such as art, music, PE, global studies, media specialists, foreign language, band, choir, orchestra, etc. bring to students? Often times when budget cuts are approaching, these roles can be on the chopping block. As a board member, would you fight to protect and save these roles in the district? How would you creatively make budget cuts to not cause the loss of teaching jobs?
# # #