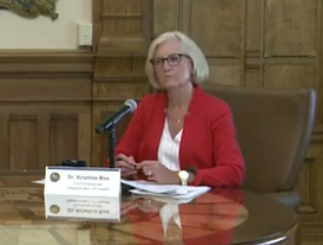 In Governor Holcomb's update today, Wednesday August 18th, Dr. Box indicated that the state is working on providing a public-facing portal that will track Covid cases that are associated to schools and with students. Earlier today I posted an article on a couple of attempts to track such cases. The state effort should be more accurate when it is launched.
The state is currently working to get student information that they can associate to the reported Covid data. They had received 20,000 to 30,000 records. Another 500,000 records were coming from the Indiana Department of Education. These records will allow the state to match reported student case to schools. This in turn can be used to provide information into the portal.
The new online reporting tool is expected to be available to the public by mid-to-late September. Schools will be asked for daily data as well.
In regard to cases related to schools, Dr. Box made the comment that the actions people take outside of schools is just as important as those they take inside. It is the issue with what kids are doing outside of schools that seem to be creating the cases.
Update:
A question was asked regarding this portal and privacy laws.
Dr. Box indicated that they have talked to their legal council.
The state gets information from their management performance hub, which the Department of Information has already share information with that. This data gets crossed with the positive cases, names of students and schools come out. They will then work with schools to have the nurse or school contact person to check to verify that student been contact tracing and such. This level of check is within what is allowed during an epidemic.
In regard to the portal, it will have teachers, staff, and students. While schools will have access to the data, the public-facing portal will only have numbers.
# # #