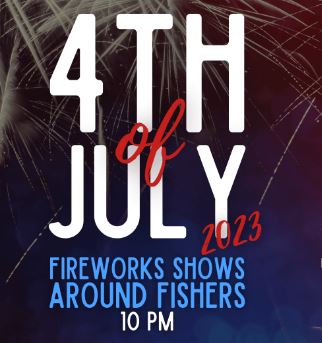 With the growth of Fishers, there has been an expansion on when and where fireworks are done. It was just a few years ago that there were fireworks at the Fishers Freedom Festival done with the City, but then the Fourth of July was left for individuals to do on their own or to go to some of the surrounding cities. Times have changed, and now in addition to there being fireworks at Spark! Fishers, there are also fireworks planned for Tuesday, July 4th!
Specifically, Fishers is planning on doing firework around the City in three locations., This includes downtown in the Nickel Plate District, Cyntheanne Park on the East side, and Geist Reservoir also on the eastern side. The fireworks will start at dusk, which is roughly around 10 pm.
The fireworks at the Nickel Plate District will be viewable throughout the downtown area. These will be launched from Holland Park, which will be closed. Prior to the fireworks, which will occur after a concert by Karma at 8:00pm happening at the NPD Amphitheater. The Fourth is on a Tuesday, so this will be a Free Tuesday concert for those that choose to attend.
The Cyntheanne Park fireworks will be viewable from around the Cyntheanne Park area as well as the HSE Intermediate and Junior High Parking lots.
The Geist Reservoir fireworks will viewable best from boats on the water. Because the City is not opening Geist Waterfront Park for people to view these, and because you cannot view them from the Fall Creek Bridge, near where they will be launched, you will basically need a boat or need to live on or near the Reservoir for best viewing of these. These are the least "open to the public" of the three locations.
# # #