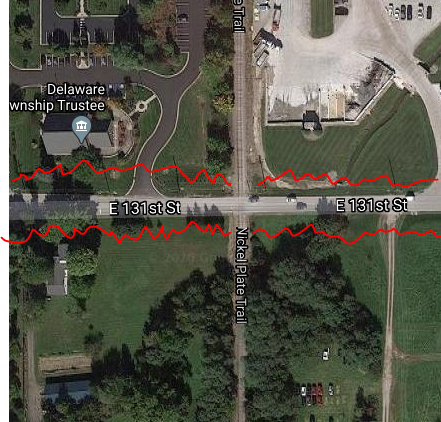 If you haven't noticed, the City of Fishers is continuing to put down asphalt on the Nickel Plate trail. Today they were working on the section between 126th Street and 131st Street.
This section is anticipated to be completed by the beginning of November, which would mean over the next few days. This should connect the trail from 131st to 106th, with the exception of the downtown area around 116th Street where it is blocked.
For those that will want to start accessing the trail at 131st, caution will be needed because there are not adjoining sidewalks on either side. To the West, is the Conner Trail that goes up Lantern Road and turns at 131st Way from the Nickel Plate Trail. Most of the area between the two trails is a narrow road with only a small section of sidewalk. With the high traffic in the area, and the ditch that pushes walkers and bikers onto the road, it will be important for the city to look at getting a sidewalk in place sooner rather than later. Having said that, to date, no plans have been seen to install such a sidewalk.