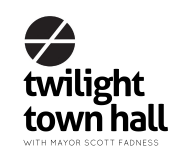 On April 15th at 8:00pm you can join Mayor Fadness virtually for an open forum to discuss current events happening in Fishers. This "Twilight Town Hall" will be a time for the Mayor to provide a monthly update.
In addition to the Mayor, Monica Heltz from the Fishers Health Department is expected to join as well. She will be providing the latest updates on COVID-19.
This will be a virtual event. When you register, a link is provided to the Zoom meeting for April 15th. Registered people can also dial in from a phone. While this is bill as providing direct access to ask questions, once registered, you are also provided with a link to submit questions in advance. We are already preparing some of our questions and look forward to hearing yours at the meeting as well!
To register (required): Twilight Town Hall
# # #