It's that time of year again. No, it's not Christmas, but close. It's Gen Con season.
Gen Con started today with their Trade Day, but officially kicks of tomorrow, Thursday August 3rd and runs through Sunday August 6th. If you are one of the three people in central Indiana that don't know what Gen Con is, then be aware that it is the biggest table top gaming convention in North America based on both attendance and the number of events offered.
While many people picture a mass of Dungeons & Dragons nerds ascending on the city, the conference is really way, way more than that. Yes, D&D has a role to play at the conference, but the conference is more about any type of tabletop gaming, and even expands beyond that. In fact, many of the games you see on the shelves at your local Target or Walmart can often be found at a Gen Con or were once featured at a Gen Con.
Gen Con features a lot of activities. As expected, there are tons of D&D or similar games being played. There are also thousands of other games that people sign up for and play. One of the biggest draws of the conference is the exhibit hall that has hundreds of vendors showing their latest (and sometimes future) games as well as selling their wares. I've attached an image of this year's exhibit hall so you can see the size. It fills an entire conference hall at the convention center and spills into a second one. Many people attend simply to walk through this area where they can by product and even demo games.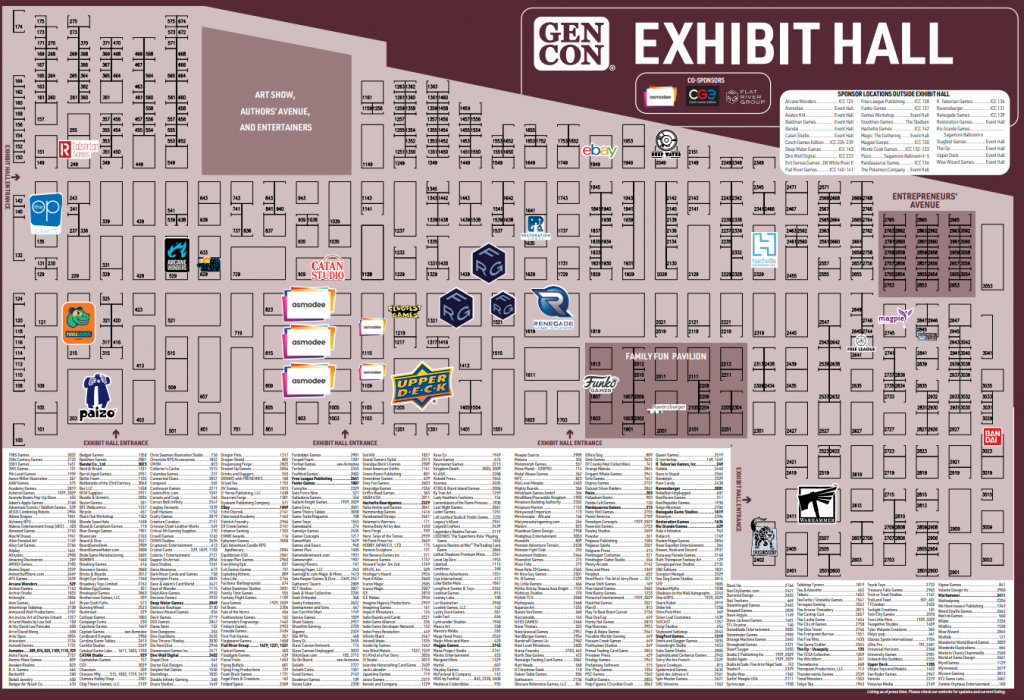 But while the exhibit hall is massive, it is only a faction of the convention. The convention has grown to where it fills the entire convention center as well as many other meeting rooms in all of the surrounding, connected hotels. In recent years, the convention has even taken over Lucas Oil Stadium. The entire football field as well as meeting rooms at Lucas Oil are used.
And then there is the Block Party area. Generally the convention also takes over Georgia Street where food vendors are setup. This year, due to construction, the Block Party has moved and is now between Lucas Oil and the convention Center.
More Than Just Games
People at Gen Con are not just playing games. The convention also features many other activities. There as in Independent Film Festival that is also part of Gen Con. The independent movies are among the many events attendees can get tickets to attend. There is also a Writers Symposium where national authors are present and numerous sessions are presented around the writing topics. There is also a costume contest and a lot of cosplay. Many people not attending Gen Con will often take a jaunt over to the convention center area just in the hopes seeing some of the elaborate costumes some attendees wear.
There are many other things happening as well. There is True Dungeon, which is a life size dungeon that people can experience as a game. There is also an auction that runs for many days selling all types of gaming items and games. There is a consignment store with thousands of items (that generally get cheaper each day of the conference). There are shows and musical performances – some in the hallways. There is also a game library where you can borrow games to play while at the show. There is action happening all around.
What is confusing to most new people to Gen Con is how the event operates. Gen Con sells tickets to get into the event. Those tickets get you into the exhibit hall and general areas such as the auction and consignment store. Most of the events and other programs then require tickets. There is a program book as well as online site that lists the tens of thousands of events. These range from free to hundreds of dollars depending on the complexity. Many events are about $2 for what last about an hour.
The ticketing system is used because many events have a limited number of participants. By having tickets, people will know in advance what events they can get into. That's important because a lot — most — events "sell out". For example, Ravensburger has a new game they are promoting and demoing this year called Lorcana, which has a Disney theme. It had hundreds of slots for people to play (at around $20 each). Those slots sold out in minutes. Gamers often want to be first to play a new game, especially one that could become popular.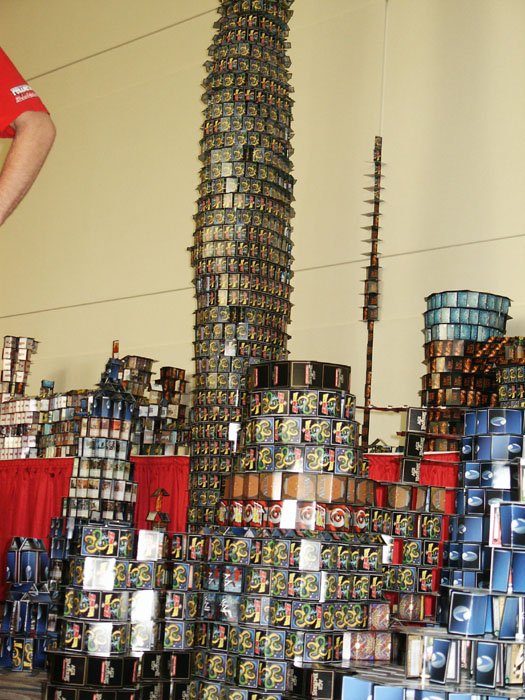 Gen Con Charities
One side thing about Gen Con worth calling out is their charity efforts. Gen Con picks one or more charities each year that they donate to. They raise funds in several ways, but there are three core ways. One is by having a charity auction as the last event for the auction. Any proceeds from that auction are donated. They also collect money via what is called Cardhalla. This is a fascinating event. During the convention, anyone can help build structures out of cards. On Saturday, these structures are then destroyed by people throwing coins at them. All of the coins along with the money made from an auction to get the first throw are donated to the charity. The other event that is used to raise charity funds is a balloon exhibit. During the convention, there is a balloon exhibit that is created. Then at the end, there is an auction to be the first to attack the balloons. That money goes to the charity. After the first attack, the balloon exhibit is then generally attacked by all the kids! Both the destruction of Cardhalla and the balloons are a lot of fun to watch.
Many people are overwhelmed by Gen Con. It is possible to go for years and still not see everything. With this year's current prediction for attendance being 85,000, not only could this be the biggest Gen Con, but there should also be plenty of people to play games with! Even if you don't have a ticket, if you are near downtown Indianapolis swing by and check it out!