The following are my notes taken from the July 26th, 2023, HSE School Board meeting. These notes were taken while listening to the meeting live, so they are not presented in the best manner and might contain errors based on what I heard. These are unedited. For the most accurate information on the meeting, you can view the video of the meeting on the HSESchools.org website.
2. Snapshots of Success – Hamilton Southeastern Fishers Academy
(The following is taken from BoardDocs:
Executive Director of Secondary Education Michelle Brittain-Watts presented information on the Class of 2023 at the July 12 board meeting. One of the great triumphs from the past year is the success happening within our Hamilton Southeastern Fishers Academy. Director of Alternative Education Brandon Cloud along with recent HSFA grads talked about the supports they received to help them succeed far beyond their graduation from K-12.
Fast Facts about the HSE Academy:
120 seniors were served as part of the Class of 2023
118 graduated
43% attending Post-Secondary Education Institutions
27% entering the workforce
2% enlisting in the military
28% graduating with a Credential/Vocational/Skilled Trades
98.33% Projected Graduation Rate
80% earned Core 40 Diploma
20% earned General Diploma
Additional notes:
Board asked questions and made comments. Two kids were featured that graduated. One, Ella, is headed to business school. The other, Avian, is now doing an apprenticeship as an electrician with Gaylor Electronics. Great successes for HSE.
It was stated that the program helps kids identify their strengths. The kids talked about how the Academy helped them identify their strengths.
3. Public Comment – Public Comments on Posted Agenda Items
Three speakers.
(1) Person 1 – HSEA Vice President Carolyn Porczucek
Made a statement about the dress code in the handbook. Asked for proper processes and procedures to be followed when making changes to the handbook. Gives chances for necessary feedback and input to be had. Also commented that changes to what is posted, constant changes to the handbook, and such are not what build trust. They are hoping the board will listen to stakeholders and follow processes in order to build trust. It is hard to recruit good teachers when processes are not followed and procedures not trusted.
(2) Person 2 – Maddalone –
Was a Longbeach, CA teacher where dress codes were implemented. Pushed for a strong dress code. Commented on Indy Star articles. Wanted code approved. Thinks other kids shouldn't be distracted by how other kids dress. "Learn by paying attention". (My comment: Looks like the school district she was at could be Long Beach Unified, which has a different socioeconomic class and known for having gang violence – not quite a comparison to HSE where we don't need a dress uniform to avoid kids wearing their gang attire.)
(3) Person 3 – Hunt
Asked that Board listen to teachers. Stated that a few teachers are reaching out to board members, but this is not quantifiable feedback. The HSEA has been collecting data anonymously from the teachers and that data is quantifiable because it has come via surveys and other means. The changes that the board is wanting to make sound like they could be the board member's own parenting style. The teachers need to stop micromanaging the district and start following the processes. The board needs to listen to the parents and not ignore those that must implement what the board decides.
4. Consent Agenda
4.01 Board Minutes
4.02 Certified and Support Staff Reports
It is worth noting that there will be an interim principal at Fishers Elementary School for up to 8 weeks. This will be Sara Curran (retired principal for HSE) who is filling in for Mr. Behrman. For those unaware, he was in an accident recently where a car turned in front of him when he was riding his bike.
New assistant principals hired at three schools. I will try to add names later (don't want to butcher them):
Fishers Elementary new Assistant Principal – Allison Rogowski
Harrison Parkway Elementary new Assistant Principal – Michael Perry
Thorpe Creek Elementary new Assistant Principal – Kayla Rago
4.03 Food Service Staff Meals
4.03 Food Service Staff Meals
The following was posted on BoardDocs regarding the Food Services staff meals request. Being that there seems to always be high turnover in the food services group, anything that can be done to help retain people seems like a wise action to take.
The Director of Food Services recommends that we allow staff employed within her division to have the cost of their lunch covered by the Food Service Fund. This is an allowable expense per the USDA. However, this is not an allowable cost for other staff whose primary responsibility is not in the school cafeteria. The employee meals must be recorded through our meal system, therefore, the number of meals will be tracked and quantified.
The average cost for a lunch meal for food supplies is $1.70. On average, there are 180 regularly scheduled food service staff in the district. Therefore, the maximum daily cost based on these estimates would be $306.00. The maximum annual cost based on these estimates would be $55,080.00. All costs would be paid through the Food Service Fund. No Education, Operations, or Referendum Fund dollars would be used for this purpose.
The hourly staff that serve our food service department are the lowest paid in the school corporation and our café managers are the lowest amongst managerial staff. The goal of adding this low-cost benefit is (1) to aid in recruitment and retention and (2) to have our staff be invested in the meals that we are serving from a menu development standpoint.
We ask that lunch for food service staff be approved and then memorialized in our non[1]certified pay sheet/schedules
This would only apply to food services staff and not other school staff.
All APPROVED By ALL
5.01 Interim Principal at Fall Creek Jr. High (action item)
It is being recommended that Tim Mankin (retired principal for HSE) serve as interim principal for Fall Creek Junior High School pending background check and board approval. The starting date would be 7/26/2023 and the length of contract would not exceed twelve weeks.
5.02 2023-2024 Student Handbooks (action item)
The HSE student handbook that was reviewed and updated through an annual process from May through June was presented to the board at the last meeting and is up for approval at this meeting. There is an extensive annual review process that includes stakeholders such as parents, staff, teachers, and admin – a process the board can be involved with as well as any other members of the community. The HSE administrators presented changes and updates to the 2023-2024 student handbooks based on the last meeting for board approval.
The changes also include customizing the cover pages for the handbooks based on the different school groups (elementary, intermediate, junior high, and each of the high schools).
It was noted that no stakeholders raised concerns about hoodies and hats. There has been a year without any issues regarding the current procedures. Going back on a policy that was just changed last year that has had no negative feedback sends a confusing message to students and staff. It was stated that not having to deal with hats and hoodies has given teachers the better ability to focus on learning. Changing the policy will create a contentious relationship between students and staff. Stated that if we are not going to honor the process, they should at least honor the words.
Albright motioned, Orr seconded.
It was stated that it was the stakeholders that brought the hats and hoodies to the previous board for last year's handbook. The previous board approved what the stakeholders presented rather than overriding them.
Pascoe during her vote stated that she wants to have a conversation about school uniforms after the referendum "is won".
Sarah D stated during her vote that she supports administrators and votes no.
Sarah PR stated during her vote that because procedures have not been followed, she votes no.
New changes APPROVED: 5-2.
MY COMMENT:  This board just ignored established procedures, ignored the HSEA which had feedback from teachers, ignored the administration which had feedback from principals, and ignored the stakeholder recommendation. Seems like the recommendation of the parents and people that followed the process were dismissed.
The following is the information from Board Docs: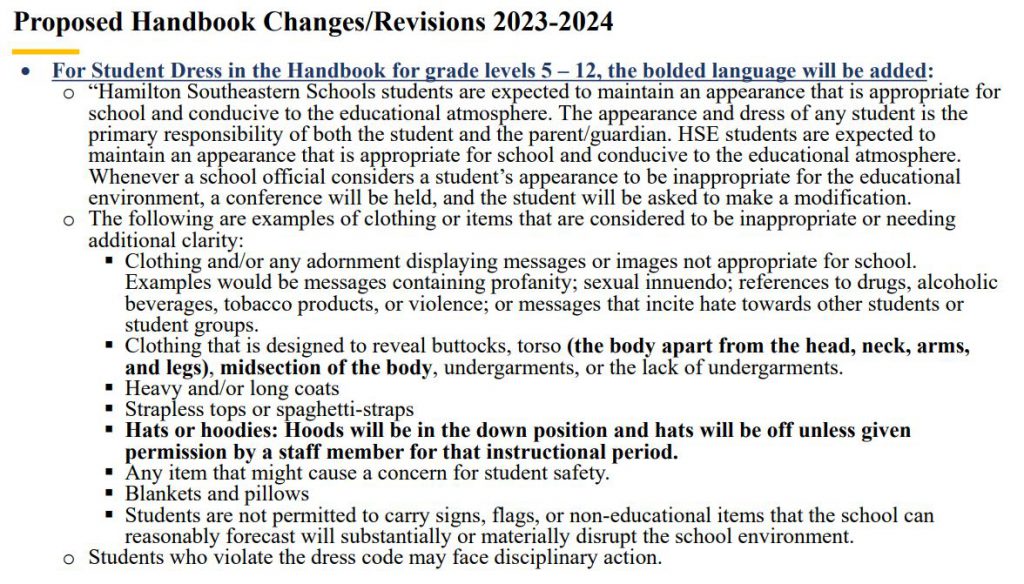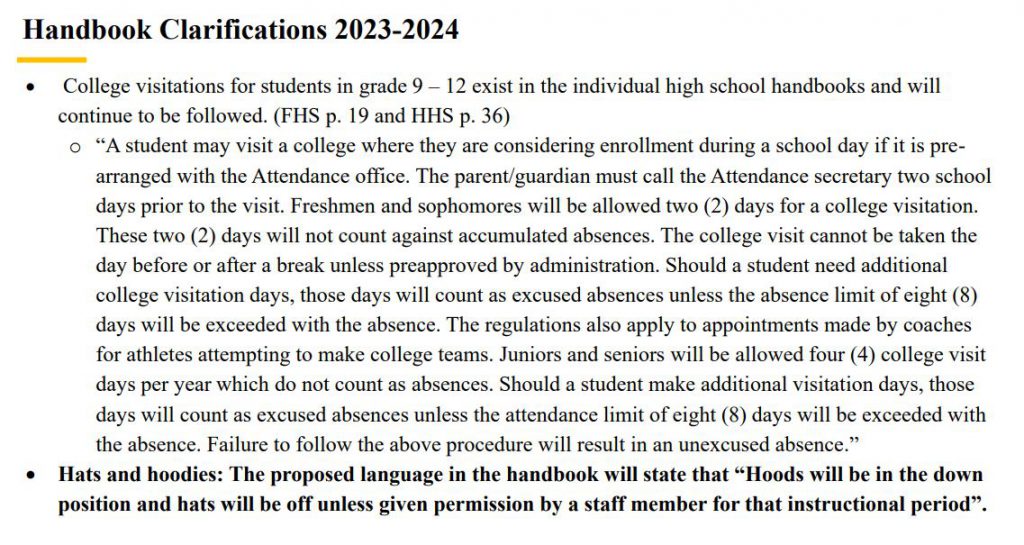 5.03 Right of Way Dedication – Fire Station 97 (action item)
In short, this item is simply giving a small strip of land to the City for use as a public right-of-way. It's minor and by the new fire station. Should have zero impact on schools and district.
5.04 Second Preliminary Determination Hearing – 2023 GO Bonds (action item)
This is a pretty standard process that happens each year. Under Indiana law whenever more than a million dollars is being spent by a school corporation to construct or renovate a school building, public hearings have to be held. Additionally, whenever a school district with a certain debt service tax rate proposes to issue bonds for the construction or renovation of a school building they must hold two public meetings in order to issue bonds (assuming the cost is at a high level).
My understanding is that the bonds being issued are standard HSE things and this is a standard yearly meetings that helps shift money around to make it easier for the district to pay the bills. Most of the district funds come from things like property taxes, so they get them twice a year. The bonds pay for a lot of planned things:
Lots of words, lots of attached documents on board docs. Several things approved. See BoardDocs for more information. I've attached a list from BoardDocs showing of many of the projects.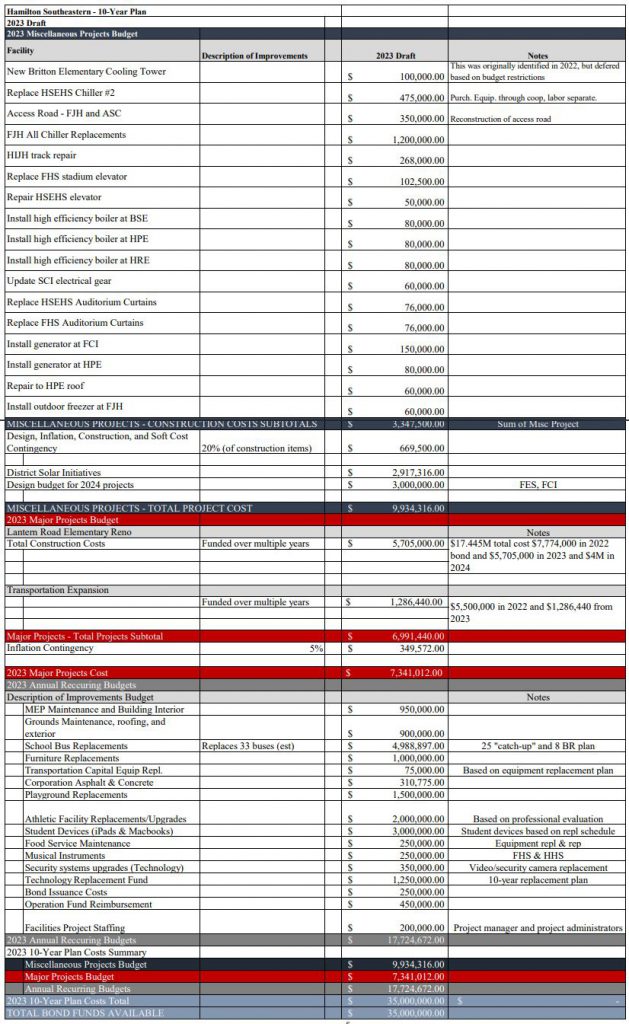 APPROVED: 7-0
5.05 2023 Meal Pricing for Adults & Students (action item)
As stated on BoardDocs, each year the meal prices for students and staff get approved by the board. The Director of Food & Nutrition Services completes a paid lunch equity calculation as dictated by the USDA. The purpose of paid lunch equity is to ensure that the school corporation is making reasonable progress for their paid meal pricing to be equal to the federal meal reimbursement subsidy.
There is no proposed increase for the cost of student lunch this coming school year. The proposed cost increase for the cost of breakfast meals is $0.10. When breakfast pricing is calculated, they must consider both the paid amount and the amount of reimbursement, receive for a paid student, for every breakfast served. The total of these two components is $1.78. The proposed increase of $0.10 is the minimum amount the district can increase to ensure they are compliant with pricing and reimbursement requirements. Having watched board meetings for the last decade+, it has always been clear that our food service department is as efficient with funding as possible. Most price increases have been because of the need to meet state compliancy.
A full breakdown of the proposed pricing information is as follows:
| | | | |
| --- | --- | --- | --- |
| Type | 2023-2024 | 2022-2023 | Difference |
| Student Primary | $ 2.80 | $ 2.80 | $ 0 |
| Student Secondary | $ 3.00 | $ 2.95 | $ 0 |
| Student Breakfast | $ 1.50 | $ 1.40 | $ 0.10 |
| Adult Breakfast | $ 2.00 | $ 1.90 | $ 0.10 |
| Adult Lunch | $ 4.30 | $ 4.30 | $ 0 |
6.01 K-12 Student Fees (Informational item)
Student fees for schools changed due to State legislation this past year. Going forward, schools are to cover the cost of book fees. This is based on Indiana Code 20-26-5-4(a)(12):
In carrying out the school purposes of a school corporation, the governing body acting on the school corporation's behalf has the following specific powers:
(12) To:
(A) purchase curricular materials and to furnish curricular materials without cost; and
(B) assess and collect a reasonable fee for lost or significantly damaged curricular materials.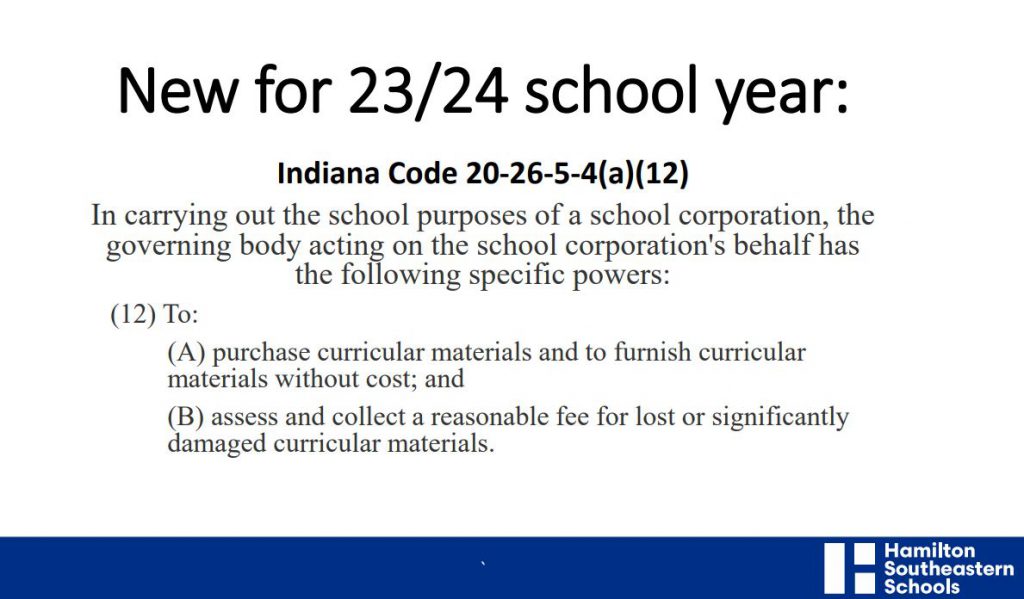 Districts are only allowed to charge for certain things. These include:
Field trips

Lost or significantly damaged materials

Dual Enrollment course materials

Dual Credit and Advanced Placement (AP) testing fees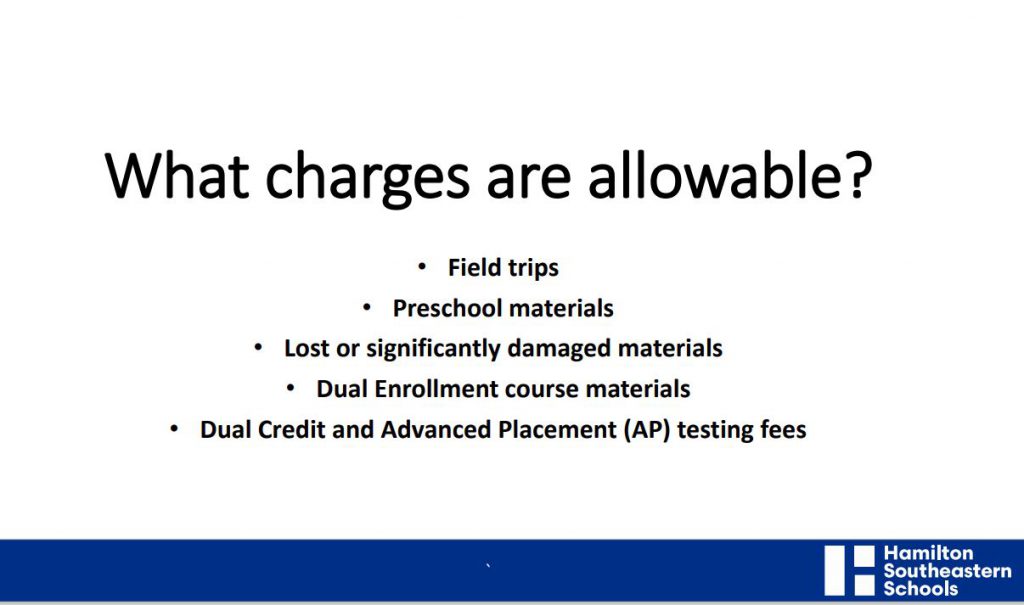 While the State will be providing funds, those funds to not cover the entire cost. For a district as large has HSE, this has an impact. For example, the estimated total of all fees invoiced to students in the 2023-23 school year were $4,186,478. If the State reimbursement were applied to that, which is $151.88 per student), the reimbursement would be $3,201,478. That's a shortfall of $985,368. The loss of revenue for the district would be $508,490 based on PE uniforms at $68,613 and debt service levy of $429,877.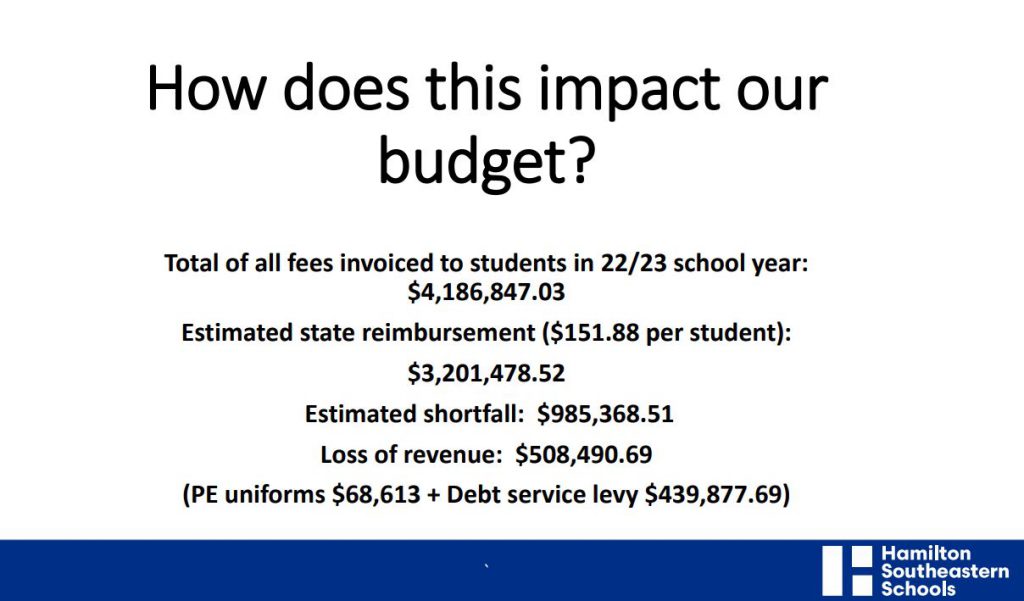 If I understand correctly, the debt services revenue is a reimbursement on book fees based that the district received from paying for low-income fees. These fees were applied to the following year but will no longer be happening.
Although the state used estimates, there are things HSE charges for that we are not able to charge for going forward. If the district decided to do uniforms, those would have to be paid for by the district as well. Buildings can still have class lists, school supply fundraisers can be done, etc. It simply can't be mandated that people pay for books.
The shortfall was clarified per a question by Orr. The numbers are an estimate, but it looks like the district will have roughly a million dollar shortfall.
When a school lists supplies needed for a class, if a child doesn't show up with the supplies, then the school will have to cover the cost of those. The district was not charging a general overall classroom supplies. You cannot charge that anymore. Teachers can put up a supply list. Supplies were being supplied if kids didn't bring them.
Suzanne mentioned the supply boxes that get sold. Katy mentioned that this is the supply kit fundraiser that PTOs can continue to do. Suzanne asked if there was a way to have these boxes across the district. Katy stated there isn't time to do something this year and doubts they would standardize this across district. Plus, who is going to manage and implement this. This is currently a PTO fundraiser. Teacher have supply lists. They will evaluate this year and figure out what they can do for future years.
Dr. Stokes stated they don't want to hinder the PTOs. The can provide pencils, but if PTOs want to sell the fluffy fun pencils, then let's let them keep doing that.
Suzanne wants supplies done her way.
7.01 Board Members Reports
Sarah D talked about some of the state legislation that happened this past year.
Suzanne T mentioned that the HSE Foundation will be meeting in August. Mudsock game coming. Tickets on sale in August. She also mentioned facilities. 10 year plan minor updates.
8. Superintendent's Report – Matters of Corporation Interest
Summer feed program served 1888 lunches were served to students 18 and under, and 207 adult lunches. They considered this good since it was the first year. They would like to continue this in the future.
It was more parents purchasing adult meals than have been seen in other districts. This was good because parents got to see what kid would be eating at schools.
Thursday August 3rd, is the last Before the Bell.
8.02 August 9, 2023, DRAFT Agenda
Big items on next month's August 9th agenda include:
Policy G03.02.01 – Teacher appreciation grants review for action
An iLearn update
A financial update
9. Board President – Board President's Report
Committees – Pursuant to policy – they have the capacity to generate a committee or ad hoc committee. They are discharging the referendum committee which brought forward the referendum language that was needed. Their job was done.
Establishing a finance and budget committee. This will work with CFO and Superintendent. The committee will meet monthly and include Orr, Lang, and Pascoe.
Vote of districts goals. The Board of Trustees and administration have worked on a set of goals. There was a slide added. Slide of draft goals was not provided on BoardDocs at the time of the meeting (or the writing of this).
# # #