Gen Con stated that they had over 50,000 attendees at this years (2022) Gen Con, which happened these last four days in downtown Indianapolis. This is the 55th Gen Con and it was huge. While at times it seemed massive, there were other times when the crowds seem low. Gen Con's highest attendance was in 2019, pre-pandemic, where there were roughly 70,000 attendees packing downtown Indianapolis. The last time it was at 50,000 was in 2013 were attendance as reported at just over 49,000. Note that in previous years, 4-day tickets have sold out. One change this year was that all participants were required to show proof of vaccination to attend and to wear masks while inside Gen Con-controlled spaces. This is something Gen Con monitored and seemed to enforce heavily.
Gen Con is the largest and longest-running tabletop gaming convention in North America. It is not just people who play Advanced Dungeons and Dragons (AD&D), but rather so very much more than that. It includes nearly any kind of board game. It also includes a writers symposium, an independent film festival, a gaming auction, a bit of cosplay, and more.
In a press release, Gen Con stated:
"Our goal this year was a return to the level of scale and spectacle that make Gen Con a can't-miss annual event for gaming fans from around the world, and we absolutely feel we achieved that," said Gen Con President David Hoppe. "We're grateful to our tens of thousands of attendees, exhibitors, event organizers, and local partners who made this year a truly special 55th edition of The Best Four Days in Gaming."
Gen Con Indy 2022 was stated to have generated an estimated $57.4 million in economic activity for restaurants, hotels, and other local businesses in Indianapolis. Leonard Hoops, president & CEO of Visit Indy, stated, "For nearly two decades, Gen Con has held its amazing event in Indy. And, as Gen Con has grown in size, so has our city. Our entire community loves welcoming Gen Con's attendees, and we look forward to seeing them again in 2023 and beyond."
The convention's exhibit hall featured more than 530 game publishers and vendors. Publishers released more than 500 new game titles during the convention. More than 15,000 ticketed events were held over the four days, ranging from board games, card games, role playing games, comedy, music, seminars, the Costume Contest, Film Festival, and more.
Concurrently with the in-person convention, an additional 900 virtual games and events were held through the convention's Gen Con Online program, and over 50 hours of live video was streamed on the convention's Twitch channels.
The Gen Con Charity
Gen Con Indy 2022's official charity partner was the Patachou Foundation, a nonprofit which serves meals and learning experiences for children to increase their awareness of and excitement about food and fight the root causes of hunger in the community. Nearly $40,000 was raised over the weekend for the Patachou Foundation through multiple charity events. The support of charities is done in a variety of ways at Gen Con, all of which are interesting and fun. The three that are most fun are the Charity Auction, Cardhalla, and destruction of the balloon sculpture.
The Charity auction is exactly what it sounds like, an auction selling games and other items (such as a set of dice for $225). The prices are sometimes a good deal for the buyer but in general, most items are sold for more than they would in a regular auction because it supports charity. There are a few regulars each year that buy items at crazy prices simply as their way to support the charity.
Cardhalla is an event you have to see to grasp how cool it is. Throughout the first three days, structures are built using cards from various card games. On Saturday evening, the structures are destroyed using coins. The first throw is auctioned off. After the first throw, the crowd can toss coins. The coins are then collected for the charity.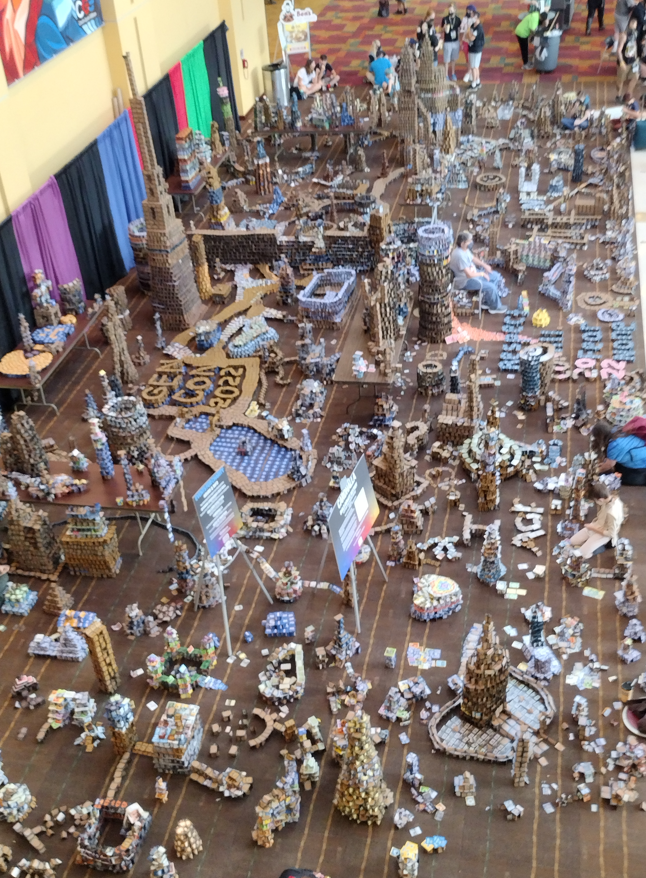 The slaying of the balloon sculpture is also a fun event to watch. Throughout the first few days, a giant balloon sculpture is created. This sculpture is then destroyed as well. Similar to Cardhalla, the first jab is auctioned off for charity. After the first jab(s), the kids at Gen Con get to help bring destruction and mayhem to the rest of the balloon. This year's sculpture was the Gen Con dragon and (in my opinion) was very impressive: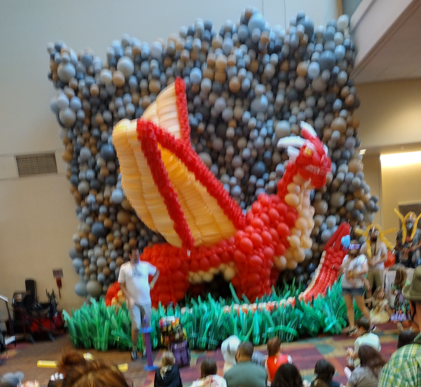 Gen Con 2023 and a Note
With 50,000 attendees, this year with the restriction of vaccinations and masks, it will be interesting to see how next year goes. Gen Con will return to Indianapolis August 3-6, 2023. I expect that unless something crazy happens within the virus world, there will be a lot more than 50,000 attending.
As a note for those that have never attended a Gen Con. The best way to get a small feel for what it is would be to go downtown and take a look. You can't walk into gaming rooms, the vendor hall, or the areas that are gaming, but the Convention Center is public space so you can walk the halls (which will let you see people, but not much more). You can also see that outside as well as see the food trucks and such. Better yet, however, is to go on Sunday. Sunday is the family day, so it is a lot more laid back. The exhibit hall is only open from 10:00 to 4:00 (the time everything shuts down), but that is enough time to get a view of the scale of the event and see what the vendor hall is like. You can try to schedule a few games as well, but truly the vendor hall would keep you busy for that amount of time. The cost on Sunday is low because thing like the auction, Cardhalla, and such are over, but it is a chance to get a basic feel. You can even go stand in the middle of Lucas Oil Stadium! The added bonus is that many of the vendors mark down their games near 4:00 on Sunday so they don't have to pack and ship them!
Sadly, you are likely to pay more for parking than you will for a single ticket on Sunday – unless you are willing to walk a few blocks!