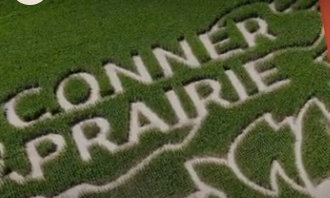 This is the first in a new series of articles I'm working on that describe fun places and things you can do around Fishers, Indiana. This series will go beyond just the parks and outdoor activities I've described in the past.
Leading off this new series is the announcement that the Conner Prairie Corn Maze. The corn maze is an addition to all the other entertainment to be gained at Conner Prairie and (unfortunately) requires an additional fee to be paid on top of the normal Museum costs. This Saturday, September 26th, two of the three corn mazes are opening!
A corn maze is simply a fun adventure working through a maze cut through a corn field. Last year Conner Prairie's maze was ranked as one of the top 10 in the country by USA Today. This year they've cut the 22,160-foot maze with a pattern that is a tribute to the 200th anniversary of The Legend of Sleepy Hollow.
Similar to previous years, Conner Prairie has created three maze paths for guests to adventure through. Each has a different focus:
Kids' Maze – This is a smaller maze for those younger kids who don't have the fortitude to do the longer routes! This path is expected to take an average of about 30 minutes.
Puzzle Maze – This path allows you to do puzzles as you work your way through the maze. Will you find all the puzzles? Will you be able to answer all of the questions? This path is expected to take an average of about an hour.
Haunted Maze – What's a good corn maze without a little scare? The Haunted maze combines a corn maze with a little fright, which is why it is recommended that you be 10 or older if you are going to dare travel its path. This path, which is expected to take about 15 minutes includes sounds, effects, lights, and live scare actors.
The Kids' Maze and Puzzle Maze open this Saturday during daytime hours. The Haunted Maze is opening in October and is available from sunset to 10 pm on Thursdays through Sunday nights – basically during the Headless Horseman hours.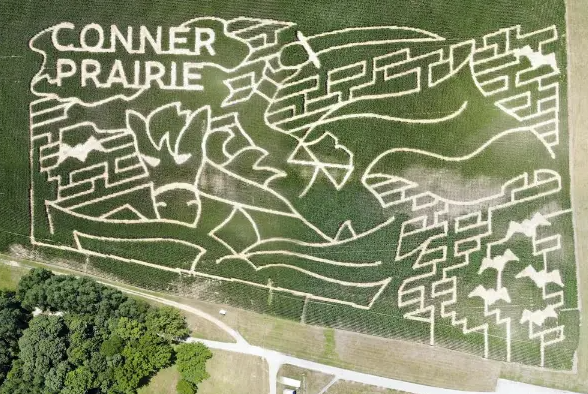 Here is Conner Prairie's video promotion of the maze. Enter if you dare….
Standard cost for Conner Prairie entrance is around $18 per person. Memberships are available as well. The added fee for the Puzzle and Kid's Mazes is $5 per person ($4 for members).
# # #