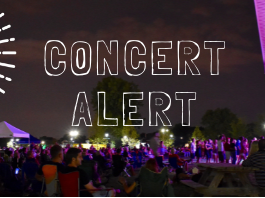 Yes, the Spin Doctors are playing the Nickel Plate District Amphitheater (AMP) this Friday, October 1st at 8:00pm. This is a free concert open to the public on a first-come, first-serve basis with no tickets needed.
If you plan to attend, know that the standard downtown Fishers parking should be available. This includes parking at the Witch, the police station, and at Spark Apartments. There is also accessible parking at City Hall. The amount of street parking is limited and the library lot is currently reduced due to construction, but there is parking there that might also be open.
This concert was postponed from earlier this summer when it was scheduled to be part of Spark! Fishers. Like other concerts put on by Fishers Parks, chairs and blankets are allowed and it is recommended you arrive early to get a spot. As mentioned, admission is free. Vendors will be selling alcohol and other refreshments. It was stated that no outside alcohol is allowed.
At the time of this post, Masks were not required but were strongly encouraged for those who are not fully vaccinated and for all patrons when social distancing cannot be maintained. It is likely that social distancing won't be maintainable at this event.
For the most up-to-date information on the concert, you can reach out out to the Fishers City Parks.
# # #