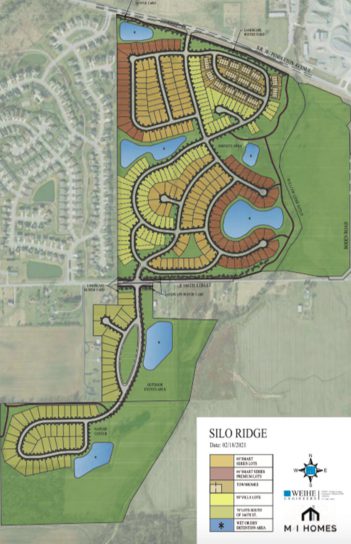 Yes, the pandemic created an anomaly, but this year's decrease didn't mean kids are moving out of the district, but rather that they were simply pulled from the schools during a world-wide pandemic. Most of the pulled kids are believed to be kindergartners, and they are expected to be back.
But also coming are new homes. Fishers has a new division, Grantham, that the City Council has been talking about at 113th Street and Southeastern that could be up to 200 or more homes. While it was stated by the Fishers city planner that this shouldn't impact numbers at Southeastern Elementary, that seems like an unrealistic statement since it is highly probably that this would include new kids moving into the city.
Another neighborhood, Silo Ridge, has been proposed that might be up to 378 homes. This would be townhomes ranging from $220,000 to $260,000 single family homes ranging from $260,000 to $420,000, and paired villas starting at $230,000. If approved by Noblesville, these would be at Boden Road and SR 38 and thus would likely be part of the new Deer Creak Elementary school.
With there being a park and a new school in that area of Wayne Township within Noblesville, it wouldn't surprise me if more housing divisions start popping up in the area as well.
So is growth flattening within HSE? Previous demographic surveys say it is about to happen, but all the building of new homes (and demand for new homes) indicates that is unlikely.
# # #