On September 23rd, 2023 from 8:00pm to 10:00pm, you can expect a mess to be made in Fishers at the Nickel Plate District Amphitheater. This is the night of the Glow in the Park Family event. This mess-making party will be happening in front of hte amphitheater stage where there will be break-dancing performances, live music, and lots of opportunity to get messy. Expect to get covered in light-up paint at this crazy event that has sold out in previous years.
Sadly, this is not a free event, but rather costs $5 for each Fishers resident and $7.50 for non-residents. You do need a ticket, but can register at https://playfishers.com/179/Glow-in-the-Park.
Fishers Parks describes the event has having live DJs, neon splash zones, face painting, a graffiti wall, food trucks, and more. They suggest attendees consider bringing things such as googles, shower caps, towels, plastic garbage bags, and even a change of clothes. For those needing them, "Glow in the Park" branded white t-shirts will be available for $10. It has been noted that the white glows nicely and shows paint splatters effectively! Fishers Parks will also have a limited number of free goggles and hair nets to hand out. Fishers Parks will be selling a number of other items as well including glow sticks, light-up glasses, water, hooded sweatshirts, and more.
There will also be a sensory friendly area for those that need a break from the concentrated paint-spray area or the loud music and lights.
The event tends to be standing room only, so no tents, chairs, wagons, or other space taking devices will be allowed. The event tends to be messy. The event tends to be loud. Paint will be sprayed – and it will be sprayed on the crowd. Expect fun and mayhem! As Fishers Parks stated, this is a chance to "Light up the night with your Family at GLOW in the Park!"
Note that September 23rd is the family event. There will also be a 21+ night on Friday, September 22nd from 8:00pm to 10:00pm. This adult-only event will cost $20 for adults from Fishers and $30 for non-residents prior to the event. It will be $40 for tickets on the day of the event.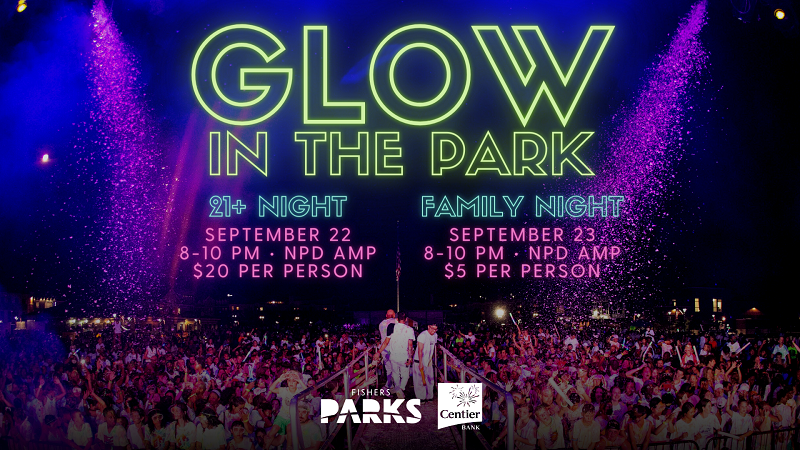 # # #